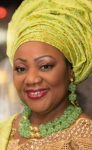 Governor Tim Walz and Lieutenant Governor Peggy Flanagan last week announced 11 new members to serve on the Governor's Council on the Martin Luther King, Jr. Holiday. Among those Governor Walz appointed to serve in planning the upcoming MLK holiday is Nigerian-American Dr. Fatima Lawson, a school principal at Saint Paul's Highwood Hills Elementary. This is Lawson's second gubernatorial appointment as she currently serves on the Council for Minnesotans of African Heritage.
Members usually serve a three-month term to guide efforts on the annual official state celebration of the Martin Luther King, Jr. holiday.
The Council is chaired by the Minnesota Department of Human Rights Commissioner Rebecca Lucero. The council determines the venue and keynote speaker for the official state function. Previous speakers have included Target's Chief Diversity Officer and Inclusion Officer Caroline Wanga who was born in Kenya.
The council meets regularly to help guide efforts, provide insight and knowledge, and assist the Office of the Governor in hosting a celebration in honor of Dr. Martin Luther King. This year's theme for the event, which will take place on Monday, January 20, 2020, is For Our Children.
"In his visits to Minnesota in 1963 and 1967, Dr. King reflected on the gains of the civil rights movement while laying out the work yet to be done. Work that still must be done today," said Commissioner Lucero in a news release sent to Mshale. "It is an honor for our Department, responsible for championing civil rights, to be a part of this celebration and ensure Dr. King's work and mission are carried forward."
The following are the names and city of residence of those appointed by the governor to serve in the new council with their terms effective December 14 and concluding on March 1, 2020:
Thomas Adams – Brooklyn Park, MN
Xiomara Bell – St. Paul, MN
Carl Crawford – Duluth, MN
Nicholas Jenkins – Bloomington, MN
Fatima Lawson – Little Canada, MN
Scott Morris – Woodbury, MN
Adrian Perryman – St. Paul, MN
Erickson Saye – St. Paul, MN
VJ Smith – Brooklyn Park, MN
Chris Taylor – St. Paul, MN
Whitney Terrill – Hopkins, MN





(1 votes, average: 5.00 out of 5)


Loading...