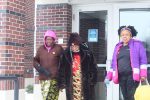 Voters in the East District in Brooklyn Park on Saturday, February 5, 2022 braved subzero wind chills to take advantage of weekend absentee voting in-person to cast their ballots for the February 8, 2022 special election. The election is to fill a vacant seat in the city council.
The Feb. 8 special election will fill the seat left vacant by Lisa Jacobson who was elected mayor on August 10, 2021.
75 people participated in the exercise on Saturday according to City Clerk Devin Montero. 600 people in total have voted as of Monday morning.
The four candidates in the ballot are Abraham Bah, Xp Lee, Benjamin Osemenam and LaDawn Severin. The four participated in a Mshale candidate forum on Jan. 20.
Polls will open at 7:00 a.m. on Tuesday and close at 8:00 p.m.
Polling place finder: Visit the City of Brooklyn Park website @ www.brooklynpark.org/elections/

Jasmine Webber is a photojournalist at Mshale. She is a graduate of the University of Minnesota.





(1 votes, average: 5.00 out of 5)


Loading...