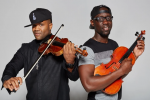 The Ordway has announced a new date for the postponed Black Violin concert. The new date is Friday, June 17 at 7:30 PM.
The duo, composed of classically trained violist and violinist Wil B. and Kev Marcus, were due to perform on April 3 but got delayed getting to the Twin Cities when airlines canceled more than 3,500 flights nationwide due to bad weather in Florida.
"Company members are experiencing travel complications and unable to make it to Saint Paul in time for the concert.," the Ordway said at the time. "A new date for the performance is being set and tickets will automatically transfer to the new date."
Those not able to make the new date must notify the Ordway by Wednesday, June 1 to exercise one of the following options:
Receive a full refund
Receive an Ordway account credit
Convert your tickets into an Ordway gift certificate. Gift certificates do not expire and may be used on future Ordway-presented performances.
Donate the value of your tickets as a tax-deductible contribution to the Ordway.
Black Violin at the Ordway
Date: Friday, June 17, 2022 @ 7:30PM
Ticket link: https://ordway.org/events/black-violin
Note: If you have tickets from the April 3 show, your tickets are good for this show.





(No Ratings Yet)


Loading...