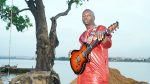 More than half his life—and he's only 41 years old—has been devoted to on-stage, live performance. Vieux Farka Touré revels in the energy of his audience and his bandmates. His many albums recorded live attest to his charisma.
So when the pandemic precluded those essential elements that fed him, guitarist and singer, Touré dug into his past for inspiration and motivation. His latest album, Les Racines, showcases what he discovered in the two years he spent at home in Mali.
Mshale spoke with Vieux Farka Touré recently. Touré said, "I had never been home in Mali for such an extended period of time since launching my career."
Wednesday, May 18th, he'll perform at The Dakota in Minneapolis featuring music created during the pandemic and compiled into his newest album, Les Racines, which will be officially released June 10th.
"The songs will feature the brilliant drummer, Adama Kone, on the calabash drum," Touré said referring to his upcoming show. Touré's performed at The Dakota previously, "but this will be Adama's first time performing there."
Touré reflected on how this new music evolved. "I recorded the album entirely at a studio that I constructed at my home in Bamako, Mali," he said. While past albums were influenced by many different genres such as reggae and funk, Touré said "for Les Racines, I focused on the musical traditions of Mali. In addition to my guitar and vocals, the album uses Malian instruments such as the ngoni, kora, and calabash drum."
His current US tour launched in April, none too soon for Touré who said, "When I was unable to perform live shows during the pandemic I constantly thought about how much I missed connecting with fans through live music."
Taking the stage in May will be a solace and rejuvenation for both performers and listeners.
Ticket link: https://www.dakotacooks.com/event/vieux-farka-toure-2/
Susan is based in Minneapolis and reports on general assignments for Mshale with a focus on entertainment. In addition to reporting, she is also a writer, poet, teacher and coach.





(No Ratings Yet)


Loading...