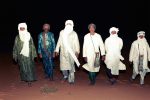 The struggle only refines them. Tinariwen, a premier Tuareg band hailing from the Sahara, takes the stage at The Cedar Cultural Center September 10th. They've not performed in Minneapolis since 2015.
Digging into their past, which takes one back nearly sixty years, they've never had an easy path to success. Obstacles of political oppression, violence, refugee camps, and death pockmark the band's timeline. So this pandemic was just another complication to overcome and definitely not their most difficult considering their history.
Tuareg people inhabit the Sahara, their numbers stretching from southwestern Libya to southern Algeria, Niger, Mali, and Burkina Faso as well as pockets of northern Nigeria. Tinariwen embrace their heritage as nomads, traveling at times by choice and other times by threat from country to country even spending a short exile to the United States in 2014.
Now, touring both Europe and the United States, this multi-Grammy-winning band brings the sounds and aura of many Saharan regions as well as input from various guest musicians. Their most recent album, Amadjar, cut in 2019, includes appearances from such varied performers as Warren Ellis, Noura Mint Seymali & Jeiche Ould Chighaly, and Micah Nelson.
Their 2022 tour will also include music from a reissue of albums released originally in 2001 and 2004, respectively The Radio Tisdas Sessions and Amassakoul. These acclaimed albums have several numbers reworked with the stylings of KMRU, Kenya's own sound artist and experimental ambient musician, now living in Berlin.
The band, honored by BBC Radio 3 Award for World Music, remains intact despite the global ravaging of Covid however last year, they did lose one band member. On February 14, Japonais – a member of Tinariwen since 1985, and the author of the songs "Ahimana" and "Tamudjeras Assis" – passed away. He was 54 years old.
Tinariwen at The Cedar – Saturday, September 10, 2022
Doors open at 7:00 PM CT with show staring at 8:00 PM
Tickets at this Cedar link.
Susan is based in Minneapolis and reports on general assignments for Mshale with a focus on entertainment. In addition to reporting, she is also a writer, poet, teacher and coach.





(1 votes, average: 5.00 out of 5)


Loading...