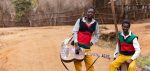 Returning with a full hand after a three-year lull, The Cedar Cultural Center's Global Roots Festival 2022 brings music from three continents and five countries to the stage in Minneapolis.
The Festival will fill the evenings of September 26th through 28th and is free to attend.
While some Minneapolis venues have fall line-ups predominately filled with local domestic talent, The Cedar made a choice to continue with their mission, "to promote intercultural appreciation and understanding through the presentation of global music and dance." Their summer and fall line-up represents a broad swath of countries.
The first night of the Global Roots Festival features a duo, Puuluup, who produce their sound  with talharpas, the traditional Estonian horsehair bowed lyre. Representing both Scandinavian and Baltic countries, the pair entertain through music and their signature comedic dance and banter.
To close opening night, QWANQWA brings together traditional string players from Ethiopia to share their improvisations and experimentations. QWANQWA draws inspiration from East Africa regions of Ethiopia and beyond. Delving deep into regional beats and moods, the repertoire ranges from a trance-like song of the Eritrean tribe of Blen to a Somali rock number to Mahmoud Ahmed sing-a-longs.
Night two of Global Roots Festival continues with Heart of Afghanistan featuring four Afghan musicians. Unable to perform inside Afghanistan today, where the only musical activity permitted by the Taliban is the singing of certain types of religious song and Taliban "chants," Heart of Afghanistan has reached outward to share their music. Only recently reunited in the U.S., the ensemble will give a 360-degree view of Afghan culture through traditional ghazals, Afghan folk music, iconic hits of Ahmad Zahir, and poetry.
The final night of Global Roots Festival again highlights music inspired by both Asia and Africa. Roopa in Flux springs from New York City, but draws upon the music of India. Led by classical vocalist Roopa Mahadevan, she and the other instrumentalists dig into classical, soul, and jazz motifs. The final band, Madalitso Band, hails from Malawi. Their celebratory and energetic sound complements the Festival with a joyful note of return.
The Cedar's website has more details.
Susan is based in Minneapolis and reports on general assignments for Mshale with a focus on entertainment. In addition to reporting, she is also a writer, poet, teacher and coach.





(1 votes, average: 5.00 out of 5)


Loading...