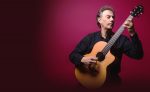 As riotous summer surrenders to autumn, so too exuberant music festivals give way to intimate music performed indoors.
Acoustic guitar player, Pierre Bensusan, takes the stage at the Cedar Cultural Center in Minneapolis on Sunday evening, September 25th, working through the second half of his North American tour 2022.
Born in Colonial Algeria, Pierre Bensusan migrated to Paris, France with his parents as a very young child. Mshale spoke via Zoom earlier this month with the award-winning artist. Bensusan elaborated on his multi-ethnic heritage.
"It's not like I did research on the genealogy, but I know [Jews have] been in Algeria and Morocco for several generations," Bensusan said offering an abbreviated history lesson as he expanded on the migration of the Jewish diaspora of which he is a part.
"So I don't really identify as [solely] Algerian, I just know that in my DNA, it's all there. I can see when I play music, I can see when I'm among African people, I feel at home. I feel normal. I don't see a difference in me. I don't see myself different from them. We are just normal. I think music is definitely another huge link between people and it makes me feel even closer to other people. What we share is that we are all migrants," he said.
Bensusan recalled what migration looked and felt like when he went through it in 1962. "My parents lost everything they owned, everything they had. They lost all their history, all their ancestors are buried [in Algeria]. When we arrived in France, it was a country we didn't know. So I feel a lot of sympathy and resonate with all the people who are migrating."
This winner of Ards Guitar Festival Lifetime Achievement Award from Northern Ireland has lived in Oran, Suresnes, France and Nice, France, with an annual trip to the United States as well.
"When you go through your own story, you think, because it's passed, it's in your past. You think, Oh, that's no longer [pertinent], but in fact, what's amazing is that 64 years later, it's still an actuality. People migrate all the time, people need to move and it's…what I know is that people do not move out of where they live and out of where they were born by pleasure. It's a necessity."
Bensusan's life experiences are reflected in his music. But, he said, "It's not a like a recipe where you have proportions. I just know I grew up with many influences culturally and linguistically. I grew up with my mother singing me Arabic lullabies. My great-grandmother didn't know a word of French, all she spoke was Ladino, which was the Jewish equivalent of Yiddish for the Sephardic Jewish people."
But as Henry Wadsworth Longfellow said, "Music is the universal language of mankind."
In addition to the self-improvement he made musically, the pandemic highlighted for Bensusan an essential belief, "People need live music, not only the music, they need to be together, to come out and experience something together. there is nothing to replace that."
Concert at The Cedar Cultural Center on September 25th, 7:30 pm show.
Tickets to Pierre Bensusan's show are available on the Cedar website.
Susan is based in Minneapolis and reports on general assignments for Mshale with a focus on entertainment. In addition to reporting, she is also a writer, poet, teacher and coach.





(1 votes, average: 5.00 out of 5)


Loading...