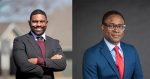 The League of Women Voters on Tuesday decided to combine mayoral and Council candidates in Brooklyn Park in the same forum, denying voters who will in November elect their first Black mayor, a chance to scrutinize the two mayoral candidates up close. Still, the limited time the two mayoral candidates, Hollies Winston and Wynfred Russell, answered questions from the moderator yielded some insight into how they will approach the office of mayor.
Participating candidates for City Council were Christian Eriksen and Indred Alexander who are vying for the East District; Teshite Wako who is running in the Central District, his opponent Nichole Klonowksi did not participate; Maria Tran who is running in the Central District, her opponent Tonya West-Hafner did not participate.
Here are five takeaways from the forum:
Crime takes centerstage
An MPR News/Star Tribune/Kare 11 poll released on the eve of Tuesday's forum that surveyed 800 registered Minnesota voters and conducted by Mason Dixon Polling found 54% thought crime had increased in their community and 45% stating it stayed flat. During the pandemic rising crime rates, or perceptions of it, have dominated the news cycles and is a subject candidate from the governor and down ballot races have had to address.
On Tuesday when asked how they will address crime all candidates with the exception of Russell espoused the community policing strategies of building bridges with the community and especially the youth. They all without exception also pledged their support for the police, a standard requirement for any serious candidate running in a suburban American city nowadays.
Winston on his part promised "to continue to fully fund the police. I mean, that's obvious," adding that there should always be a youth component to the strategy.
His computer for mayor, Wynfred Russell, said there were already "a lot of youth programs" and the problem as he sees it  are the lenient county prosecutors who let criminals off  saying "When we arrest kids here, folks here and send them to Hennepin County, they get out of jail with a slap on a wrist." Echoing a common talking point among metro area police chiefs and conservative politicians.
Russell said more prosecutions are needed.
Russell's response drew a sharp rebuke from Indred Alexander who is running for the East District Council seat.
"I just want to say I'm kind of disappointed in that answer of wanting to do more prosecution. We're not seeing a rise in crime because people aren't being prosecuted enough," Alexander said.  "We're seeing a rise in crime because these children are dealing with issues. There's a lot of mental health issues."
Majority of them are not too hot on Ranked Choice Voting
A surprising topic that came up at the forum was the Ranked Choice Voting system (RCV) when moderator Carol Barclay asked "Do you think ranked-choice voting is the most democratic means of selecting candidates? And if not, why not?"
Under the RCV system, voters rank candidates in order of preference and it has been credited with lessening polarization at the polls, as candidates are forced to reach out to a broader pool of voters than just their supporters. In Minnesota, five cities currently use the system for their local elections: Minneapolis, St. Paul, St. Louis Park, Bloomington and Minnetonka. Minneapolis was the first one to implement it in the state back in 2013.
None of the candidates on Tuesday came out in opposition to the system, instead opining that it might confuse voters and that the voters might not be too familiar with it. Only Alexander offered a full endorsement of the process pointing out the story of Mary Peltola who defeated Sarah Palin and, in the process, made history last month as the first Alaska Native and first woman to be elected to that state's lone seat in the U.S. House. Alaskans voted in 2020 to adopt RCV.
Eriksen probably summed up the thinking of most at the forum when he said "Those who support ranked-choice voting have a big education job ahead of them before I would be comfortable supporting that as a electoral process going forward."
They all love the police
Candidates were asked to describe the current state of relationship between the police department and the community.
Eriksen: "I would say that I've already felt some tangible improvement in how the community looks at our police department and how our police officers feel about themselves."
Alexander: "I'm optimistic as well with the relationship with the city (of Brooklyn Park) and the police department."
Wako: "Public safety is a concern of all of us, and we all need to be safe. And for that, we need to support a law enforcement and a police that's accountable and transparent."
Winston: "I've actually met with our new police chief (Bruley) and I've been impressed with some of the work he's been doing in Huntington Place. I think one of the crown jewels over there is the organization called The Village, and he's been amenable to working with him, to have the police come interact with the community once a week."
Tran: "I agree with Teshite. In additional, I hope that and I think that we still have to put more effort into the law enforcement and community relationship."
Russell: "I have a very excellent relationship with the police department and with our law enforcement as a whole, I received the endorsement of the fire, Brooklyn Park Professional Fire Department."
You can watch their full responses above or at this link.
They all want to improve transportation within the city
Almost all of those at Tuesday's forum promised to work to improve the ability of city residents, especially the youth and seniors, to commute within the city.
Wako and Alexander pointed out the need to ensure one can commute from one end of the city to the other if they don't have a car, with Eriksen suggesting the city come up with a circulator that can make transiting within the city easy.
Russell pointed out that the city is already doing a lot towards improving mobility within the city and boasted that "I'm not coming into the mayor position, telling you what I will do. I'm coming into the mayor office telling you what I am currently doing and what I will continue to do."
Wynfred Russell is not a fan of Brooklyn Center Mayor Mike Elliott's leadership
As is the case with many of these forums where candidates don't directly engage each other in intense debate, not much fireworks emanate from them. But on Tuesday, Russell decided to throw a firebomb across city lines as the forum concluded.
In his closing statement, Russell argued it is important to have experience before one becomes mayor, otherwise, "I think that we all can see or have seen that experience matters. We see what is happening to our neighbors next door."
Although he did not mention names, it is unlikely Russell was referring to the mayors of Maple Grove, Champlin, Osseo or Crystal – cities that share a border with Brooklyn Park, and have mayors with varying experiences either as mayors or Councilmembers prior to being elected to their current terms.
The only other city bordering Brooklyn Park will be Brooklyn Center, which has been in the eye of the storm following the police killing of Daunte Wright, but has since quieted down. Mayor Mike Elliott, a Liberian American like Russell, is winding up his first term this November and is up for reelection.
Outside of groups that believe police officer Kim Potter should not have been prosecuted for killing Daunte Wright, many credit Elliott with leading the city through the crisis and providing the needed leadership.
Russell went on "When you have someone who doesn't have that experience in this position and the track record and built the relationship that we have built over the years, what we see happening next door, I'm afraid it may happen to us here in Brooklyn Park."
The NAACP (National Association for the Advancement of Colored People), the nation's oldest and largest civil rights organization, clearly does not share Russell's view of Mayor Elliott. Three days before the candidate forum, at its Freedom Gala, it presented Elliott with an award for his years of service and commitment to the community.

Born and raised in Kenya's coastal city of Mombasa, Tom is the Founder, President and Publisher of Mshale. As the founder, he did a lot of the reporting during the humble beginnings of the newspaper. While he still does the occasional reporting, he now concentrates on the publishing side of the news operation. Tom was also the original host of Talking Drum, the signature current affairs show on the African Broadcasting Network (ABN-America), which was available nationwide in the United States via the Dishnetwork satellite service. On the show, he interviewed Nobel laureates such as 2004 Nobel Peace prize winner, Professor Wangari Maathai, the first woman from Africa to win the peace prize and heads of states such as the president of The Gambia, Yahya Jammeh at State House, Banjul. Tom has served and chaired various boards including Global Minnesota (formerly Minnesota International Center), the sixth largest World Affairs Council in the United States. He has previously served as President of the Board of Directors of Books for Africa, the largest shipper of donated books to Africa. He also serves on the boards of New Vision Foundation and the Minnesota Multicultural Media Consortium. Tom also served two terms on the board of the United Nations Association. He retired from running full marathons after turning 50 and now only focuses on half marathons.





(1 votes, average: 5.00 out of 5)


Loading...