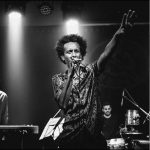 Gili Yalo's life has been one of departure and arrival, leaving the familiar to seek safety in what is new. What's never been cast-off, but has remained a security blanket that he's carried around is his music.
While still a young child, Gili Yalo and his family fled Ethiopia to escape famine. They found themselves in Sudanese refugee camps, but then became a part of Operation Moses in 1984, a covert evacuation of Ethiopian Jews from Sudan during a civil war. Gili Yalo sang to render comfort to himself and his family. In the course of this exhausting and emotional journey, the music encouraged Gili and his family to keep on moving.
Eventually, Gili established himself in Tel Aviv, Israel where he sang with boys choirs and then for seven years in a band, Zuvloon Dub. As he transformed from a band member to a solo act in 2017, he sang songs about his life. He's still singing and creating music as he moves along with everyone else into a post-pandemic world.
Saturday, October 1st, he'll jump on stage at the Cedar Cultural Center to perform along with his band of Nadav Peled on guitar, Dor Heled on keys, Billy Aukstik on trumpet, Eran Fink on drums, and Geoffrey Muller on bass.
The audience can expect to hear how he's taken his Ethiopian roots and grafted on soul, jazz, psychedelic, R&B, reggae, and funk to create a new sound with his stylings all over it.
Fanaka Nation opens for the 8 pm show. Tickets for his show on October 1st can be purchased at The Cedar website.
Susan is based in Minneapolis and reports on general assignments for Mshale with a focus on entertainment. In addition to reporting, she is also a writer, poet, teacher and coach.





(1 votes, average: 5.00 out of 5)


Loading...