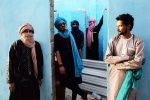 Tuareg music mixes electric blues with African and Middle-Eastern sounds. We can hear it live and up-close on Tuesday evening, October 11th at The Cedar Cultural Center in Minneapolis when Imarhan climbs the stage-steps and delivers a sound they've been polishing since they were young boys in school.
Their first language is not English so Mshale's interview with them was via an interpreter and transcriber. Imarhan said, "We all five knew each other from the start: we grew up in the same neighborhood, we went to the same school. We are like brothers."
"We started to play [musically] very early, like lots of kids in Tamanrasset, [Algeria] and in 2006 we decided to create our own band," Imarhan said recalling how their band emerged. They mix ancestral instruments such as the djembe and calabash alongside electric guitars and bass. They relied on the decades-old Tuareg band, Tinariwen, for guidance and mentoring then added their own brand of funk and psychedelia, bridging the past to the contemporary.
"Our main motivation [to remain together as a band] has just been that we loved sharing time together and sharing our love for music; music is part of daily life in our community and in Tamanrasset," they said.
This is their first North American tour since 2018. It's also been four years since they've released an album. Aboogi is their third studio production and first recorded in their own space in a studio they built themselves in Tamanrasset.
On stage, the audience can expect to hear songs of oppression and the day-to-day struggles of the Tuareg people of the Sahara. But we can also anticipate Imarhan to sing about the beauty of the landscape. "We always play our music with pleasure, joy," said Imarhan. "It's  most important to have pleasure and joy, and it's what we feel."
Tuareg music is generally sung in Tamashek language, the lyrics often drawing upon traditional Tuareg poetry. Yet, Imarhan hopes, the language will not be a barrier. "We like it when the audience is very into it, moving to the vibe of the show at the maximum possible. We are very focused in our music when we play and we love when we feel the audience is focused in it as well, and enjoying it!"
Tickets for the October 11th, standing show are available at The Cedar website. Special guest, Crystal Myslajek.
Susan is based in Minneapolis and reports on general assignments for Mshale with a focus on entertainment. In addition to reporting, she is also a writer, poet, teacher and coach.





(1 votes, average: 5.00 out of 5)


Loading...