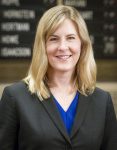 House Speaker Melissa Hortman (DFL-Brooklyn Park) has been chosen to again take the gavel when the 93rd legislative session begins Jan. 3.
House DFL caucus members elected Hortman during a Thursday evening meeting, their first since Election Day when they retained control of the House by the same 70-64 margin they've held for the last two years.
"I am honored to have the support of my colleagues to continue serving as Speaker of the House," Hortman said in a statement. "The Minnesota House DFL Majority is looking forward to working with Governor Walz and the incoming Senate DFL majority to protect reproductive freedom, invest in our public schools, make health care more affordable, and to build an economy that works better for everyone. We are ready to get to work to build a better future for all Minnesotans."
Hortman, elected to her 10th term Tuesday, has been speaker since 2019 and held several other leadership roles during her time in the House, including serving as minority leader from 2017-18, assistant majority leader and minority whip.
DFLers also chose Rep. Jamie Long (DFL-Mpls) to be the next majority leader, succeeding current House Majority Leader Ryan Winkler (DFL-Golden Valley), who did not seek re-election, and Rep. Athena Hollins (DFL-St. Paul) to serve as majority whip.
Long was first elected to the House in 2018. He currently chairs the House Climate and Energy Finance and Policy Committee and also serves as a member of the public safety, judiciary and rules committees.
"I am so honored to be serving in this majority leader role for our caucus," Long said, adding that DFL control of the Legislature and governor's office, presents a "tremendous opportunity" for his party to "deliver on the promises that we ran on in this last election and do big things for our state."
Forty-seven new members are set to take office in January, pending recounts.
If the numbers hold, 25 Republicans and 19 DFLers will serve their first term, with former members Jeff Brand, Jerry Newton and Brad Tabke, all DFLers, also returning.
Election results are not official until they have been certified by the state canvassing board, which is scheduled to meet Nov. 29.






(No Ratings Yet)


Loading...