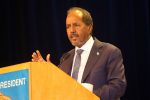 Hours after attending the U.S.-Africa Leaders Summit in Washington hosted by President Biden, Somali president Hassan Sheikh Mohamud addressed a near capacity crowd of the Somali diaspora at the Minneapolis Convention Center on Dec. 15.
Speaking exclusively in Somali for about 40 minutes to a cheering crowd waving miniature Somali flags, the president praised the tenacity of Somalis and vowed to combat religious extremism at home and abroad.
The president pledged to open a consulate in Minnesota which is home to the largest population of Somalis outside of Africa.
"We will open a consulate here in Minnesota," President Hassan said.
The hours-long event at the convention center which started around 4pm lasted past midnight with the president taking the stage at around 11 p.m.
The president was accompanied by Rep. Ilhan Omar who introduced him after she spoke. Her district includes Minneapolis. Also present was Minneapolis Mayor Jacob Frey who made his introductory remarks in Somali.
The evening had a festive atmosphere with speeches from local elected leaders and Somali elders as well as music from local Somali artists.
President Hassan also cracked a joke about the snowstorm that slammed the Twin Cities upon his arrival, saying, "Get ready to go back to your home country, even if it's just when you have a vacation or holiday or when it's really cold like this."
This is Hassan's second nonconsecutive term. He served as president in 2012 to 2017 and made a visit to Minnesota halfway through his first term in 2014.
Meets Imams and Somali professionals
President Hassan also met separately with Somali Imams and professionals at his hotel the next morning. Adna Farah, aka Jinow, who attended the more intimate morning meeting, described it as chance for the Imams and professionals to ask questions of the president and also give him ideas.
"We had a chance to ask or give suggestions to the president about the future of Somalia and how we can work together," Farah said.
Among questions that were asked of the president was when Somali soldiers sent to Eritrea in 2018 for training will come back to take part in the fight against Al-Shabaab.
"The Somali soldiers trained in Eritrea will be deployed gradually as soon the beginning of next year," the president said. "The first group will be arriving in January and I promise to bring them back all."
Imam Hassan Jami'i of masjid al-Dawah in St. Paul presented the president with a document the imams have drawn up with suggestions on how to eliminate Al-Shabaab.
The president in response to a question on when the African Union Transition Mission in Somalia (ATMIS), will be depart Somalia since they are not actively engaged in fighting al-Shabaab, said he appreciates the sacrifices that ATMIS has made on behalf of Somalia.
The African Union Transition Mission in Somalia (ATMIS) is described by the AU as "a multidimensional mission (military, police and civilian), authorized by the African Union and mandated by the United Nations Security Council." It became operational in April 1, 2022 and is mandated to support the Federal Government of Somalia in the implementation of the Somali Transition Plan and "to transfer security responsibilities to the Somali security forces and institutions."
"You can't imagine how helpful they have been, many of them have died because of Somalia, ATMIS will be deployed back to their countries in 2024," Hassan said.

Mshale Contributor Mohamud Farah Dulyadeyn is the host of Wacyi Show for Somali Cable TV. He is an alum of Metropolitan State University, where he majored in journalism.





(No Ratings Yet)


Loading...