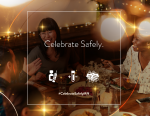 Many of us will be gathering with family and friends during the upcoming holidays. With many respiratory diseases spreading right now, including flu, RSV, and COVID-19, it is important to take steps to help everyone celebrate safer!
Here are some things you can do:
Make sure you and your family are up to date on your COVID-19 vaccines and have received your annual flu vaccine. You can get both vaccines at the same visit.

Find COVID-19 and flu vaccine locations near you at Vaccines.gov. Many locations, such as pharmacies, may have both vaccines, so you can ask about getting both shots at the same time.

Stay home if you are feeling sick. No one wants to miss out on the celebration, but it is important to stay home so others do not get sick.
Wash your hands often.
Check the CDC COVID-19 community level by county before you go so you can follow appropriate public health recommendations, such as when to wear a mask. You can also wear a mask at any time, no matter what the community level is.
Consider COVID-19 testing before gathering, particularly if there will be people there who are at higher risk for severe disease.
Learn more at Protect Yourself and Others: COVID-19 and Influenza.





(No Ratings Yet)


Loading...