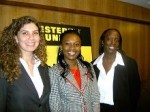 The African Marketing department at Western Union last month announced its fall internship program. The internship gives the internship recipient an opportunity to spend four months working in the African marketing department which is based in Montvale, New Jersey. While it is a paid internship, relocation expenses to the New Jersey/New York area during the duration of the internship is the responsibility of the intern according to information provided to Mshale.
The internship, which is open to undergraduate or graduate college students pursuing a future in business or marketing, requires a solid understanding of African cultures and a GPA of 3.2. Applicants fluent in French, Arabic, Portuguese or an African language will have an added advantage. Fluency in English is a requirement.
Information about the internship submitted to Mshale states "The internship program is designed to help interns achieve personal and professional growth by providing an opportunity to work alongside seasoned global marketing professionals within a leading financial services company."
To apply, candidates should send resumes to susan.phillips@firstdatacorp.com.
The deadline to apply is August 11, 2006. Internship start date is September 4, 2006.





(No Ratings Yet)


Loading...