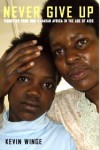 The author of this thoughtful book on the plight of poor people of sub-Sahara Africa as they tackle the overburdening AIDS pandemic is Kevin Winge. He is the Executive Director of Open Arms of Minnesota, a non-profit organization that has made it possible for thousands of AIDS sufferers to get at least one good meal a day.
Kevin Winge is uniquely qualified to throw light on this gigantic pandemic that is claiming millions of lives as his non-profit has teamed up with the Guguletu township in South Africa to bring hope and help to a people overwhelmed by the pandemic. His intervention comes in a place where resources are scanty and at a time when the rest of the world has turned a blind eye to the immense human suffering in the region.
Sub-Sahara Africa is the epicenter of this global pandemic and the author has been privileged to travel to this region to work hand in hand with activists who have set up humble facilities to fight the scourge with very limited resources. Among other things, Open Arms Minnesota has taken a commitment to supply food baskets to the AIDS patients and their families in the Guguletu township.
The author shows glimpses of the relics of the abominable apartheid system in which a privileged few white people lived a life of conspicuous consumption and plenty when the majority blacks were confined to separate lands (townships) in which people lived in shackles amid absolute poverty. The author lived in an ultra-modern flat in the old "whites only" neighborhood in homes protected by several gates and electronic gadgets, safeguards intended to allow the "superior race" enjoy a peaceful life.
It was not uncommon in the apartheid era for sign-boards reading BLACKS AND DOGS NOT ALLOWED to be seen in clubs, swimming pools, hotels and other amenities intended for whites only. Nelson Mandela languished in Robben Island for 27 years before his release that led to the first multi-racial democratic elections that swept his party the African National Congress to power. After Mandela became the first President of a free and democratic South Africa, references to the African National Congress being categorized a terrorist party ceased and the Truth and Reconciliation Council was formed to start the racial healing process. Today, South Africa is a showcase of functioning racial harmony!
The author notes that after Mandela completed his first term of five years in office, Thabo Mbeki took over as the succeeding President and for some time lived in denial as far as HIV-AIDS was concerned. He brushed aside notions that AIDS was caused by the HIV virus and contended that AIDS was a disease that afflicted poor people and thus poverty was the root cause of the disease. Such negative propaganda coming from the highest office of the land made efforts to educate the masses on prevention and treatment of the epidemic to take a slow start.
When sanity eventually prevailed in South Africa, numerous efforts are being marshaled from around the world to address the AIDS crisis and retroviral drugs are now being delivered to some of the affected people in the region. The author chronicles people he met and helped care for, some of whom died leaving indelible memories on his mind. He saw that a white AIDS patient in New York was not different from those in South Africa. His goal is to raise awareness of the extent of the problem in poverty-stricken regions so that the rest of the world can step in and help in this humanitarian crisis.
The author laments that the world stood-by while 800,000 people were massacred in the Rwanda genocide, and he is of the view that if the rest of the world does not step in to contain this problem, humanity will be doomed. He sees pockets of gangster rape as a contributing factor to the spread of AIDS and this book is a wake-up call for everyone to respond to this devastating disease with compassion and determination to help save lives.
The homophobia and stigma associated with HIV-AIDS has been hard to surmount. Nonetheless, when high profile icons like Nelson Mandela, government officials, youth activists and many members of the public appeared in public campaigns wearing T-shirts marked "HIV-POSITIVE"- the level of stigma and retribution on AIDS suffers is on its downward decline. People are beginning to see AIDS as a human challenge to be faced head-on.
The author has been very careful in his choice of words to avoid offending anyone when crossing the cultural divide as he traverses from Minnesota in the great-lakes-state to Guguletu, a township in South Africa. His attitude has been going to South Africa to learn from the grassroots and getting to know the experiences of AIDS patients there; and not to impose "an American solution" to the crisis of AIDS there.
By now, Guguletu has become a household name in Minnesota after last year's visit of their energetic SIYAYA CHOIR with enchanting songs on AIDS that made appearances in a number of theatres here in Minnesota to the merriment of many of us. As far as Open Arms Minnesota is concerned, Guguletu (our pride) is our small sister township in South Africa. We hang together. This book is a must read for all people with a conscience.
Never Give Up was written by Kevin Winge. It is published by Syren Book Company in Minneapolis. This review was written by Swallehe Msuya.


Swallehe Msuya was a senior staff writer at Mshale with extensive media experience in his native Tanzania. He was a general assignments writer. Investigative stories that Mshale undertook were normally his responsibility. Swallehe passed away in Sept. 2009 at the age of 61. Mshale will forever miss his tenacity and wisdom.





(No Ratings Yet)


Loading...