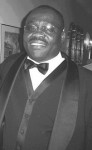 The Union of Liberian Associations in the Americas (ULAA) is the umbrella group of Liberians and their various organizations in the Americas. ULAA is a voluntary, non-profit and non-governmental organization that was formed on July 4, 1974 in Philadelphia, Pennsylvania. It was given birth through the efforts of the Liberian Students Association in the US with its mission being to advance the causes of Liberians at home and abroad.
Mr. Emmanuel S. Wettee, a Ph.D. student at Colorado Technical University was inducted into office as the new president of the ULAA on Saturday, December 9, 2006. Installing the executive officers, Father James Wilson, President of the Liberian Ministerial Council in Minnesota challenged Wettee and other elected officials of ULAA to uphold and abide by the Constitution of ULAA and to carry out its mission and purpose.
Fr. Wilson, who is also the Rector of St. Andrews Episcopal Church in Minneapolis, was speaking at ULAA's inaugural ceremony, where he addressed hundreds of Liberians from all parts of the United States, at the Grand East Host banquet facility in Reynoldsburg, Ohio. He reminded the officers that they are called not only to administrative responsibilities, but also to good governance that would be based on selflessness, respect for all, accountability, transparency and well-guided interpersonal relationship and spiritual thinking.
"Over the years, ethnicity has trumped national commitment in our national history, created hatred, animosity, and division among us Liberians and continues to keep us apart
,"
said Fr. Wilson.
"As executive officers of ULAA, can you promise before God and this assembly that you will rise above ethnicity, treat every Liberian equal, develop a national agenda that would unify Liberians and create national consciousness?" he asked to which the officers all responded in the affirmative. He concluded by calling on ULAA Chapters to give the executive officers their fullest cooperation and support.
Other elected officers
include: Mrs. Georgia Mason-Selli, National Vice President; Mr. Isaac Zawolo, National General Secretary;

Mr. Emmanuel Togba, National Treasurer; Eastern Regional Vice President, Mr. Charles Y. Coleman; Northern Regional Vice President, Mr. Gaye D. Sleh; Southern Regional Vice President, Mr. James Y. Hunder and Regional Vice President Western Regions, Mr. Jerry Gbardy.
The guest speaker at the ceremony was Dr. Stephen C. Lubkemann, an assistant professor of Anthropology and International Affairs at George Washington University, who urged the Liberian community to lobby lawmakers against terminating TPS (Temporary Protective Status).
Terminal Protective Status
Dr. Lubkemann said, "What was once a possibility, the termination of TPS, is now a certainty. For those Liberians who have who lived here for many years under this always tenuous status, and its taxing physical, social, economic, and perhaps above all psychological insecurity, it appears that this is the last Christmas that they will know under this bureaucratic Sword of Damocles".
He continued, "Since the renewal of TPS is no longer an option there are perhaps only two fundamental questions left to consider; will
the sword of illegality now indeed fall upon those who have lived so long under TPS status?

What

, if anything, can be done to prevent it from happening?"
Dr. Lubkemann reminded Liberians that the termination of TPS status now assured them that what was once a temporary immigration status will now more accurately be thought of as terminal protective status for all who have benefited from it. "There will be no automatic exception for Liberians, if only because TPS itself will no longer exist," he added.
Dr. Lubkemann, who is known in many Liberian communities for his research work on TPS, emphasized that ULAA leadership and the mass Liberian community participation will both be needed in order to succeed in any effort to achieve permanent status for current Liberian TPS holders.
"There is a new and potentially effective argument to be made to policy-makers who are deliberating status issues which is that they should consider the foreign policy benefits of granting permanent status to those with TPS," said the guest speaker. He added, "The granting of permanent status to those with DED/TPS would strengthen the ability of the Diaspora to contribute to the rebuilding of Liberia itself. It bears noting that those with TPS status are acting in a lawful manner, having thus already demonstrated their commitment to legal means."
In his Inaugural Address, the 23

rd

President of the Union of Liberian Associations in the Americas, Mr. Emmanuel Wettee, called on Liberians to unite and forge ahead under the banner of ULAA. He said, "It has become clear time again that the splintering of the national effort has not yielded the desired results for us and our country. Hence, I cannot but implore all Liberians to unite under this big ULAA umbrella, where, as the saying goes, 'there is room for everyone'."
Working with the Liberian Government
Mr. Wettee, who served as Doyen of ULAA for many years, said his Administration will work closely with the Government of Liberia. He said he would use the Liberian Embassy near Washington, D.C. as his immediate point of contact in building the much needed collaborative relationship. He said he would take urgent steps to ensure that efforts at producing a revised ULAA Constitution materialize, adding, "The goal here is to finalize the Union's organic laws in ways that address the needs of some organizations that are desirous of joining the Union".
President Wettee was applauded when he said his administration is considering the holding of a Donors' Conference on Liberia under the auspices of ULAA which will seek to mobilize financial resources for Liberia.
He also noted that the Conference would seek the highest manifestation of partnership between ULAA and various Liberian organizations.
Mr. Wettee said, in support of his domestic social services agenda, his administration would establish the mechanism to partner with member chapters and other organizations in conducting chapter and regional seminars as well as co-sponsoring specific projects in the area of social service delivery. He added that his administration would be grounded on five pillars: shared power and influence, visioning and mobilizing, collaboration and partnership and increased participation and changing perceptions
.
"Our administration aims to act collaboratively with our internal organizations and external partners to solve agreed upon issues that affect all Liberians." Mr. Wettee called on all Liberians to roll up their sleeves and assist him in making ULAA a better organization. "Fellow Liberians, the road ahead of us appears very rough but, with determination, commitment, willingness, and above all unity of purpose, we can all partner together under an effective leadership and come out with great success".
Ohio Governor's Greeting to Liberians
A special message from Hon. Bob Taft, Governor of Ohio, was read by ULAA Chief of Protocol, Mr. Adolphus Karpeh. The Governor extended greetings to the officers, members, family and friends of the ULAA.
In his message, the Governor said that Ohio takes pride in its ethnic communities appreciating the ways in which Liberian Americans added to the diversity of the state. He added that his office recognized the importance of the rich cultural heritage that is passed along to the future generation through the many Liberian American professional, fraternal, cultural, religious and social organizations.
The Governor also pointed out that the ULAA can be proud of its accomplishment since it fulfilled its stated purpose of promoting peace, democracy and development in Liberia while working to improve the living standards of Liberians in the Americas. Hon. Taft saluted Emmanuel Wettee and the officers for their efforts towards contributing to
t

he multicultural diversity of communities throughout the State of Ohio and the world.
The ceremony climaxed with a grand dinner and ball. The star of the evening, US based Liberian singer, Dominic Brapoh sang a few of his original songs to much applause. Dominic, also known as Lucky Shango, has produced two Liberian albums: Beautiful Woman and Liberian Pageant. He is currently working on his third album which includes the tracks Let me show you something and Bounce that Tumba.

Robert Sayon Morris is a Senior Staff Writer with Mshale. He reports on general assignments. Before moving to the United States, he practiced journalism in his native Liberia.





(No Ratings Yet)


Loading...