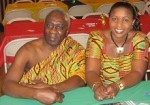 Hundreds of Ghanaians living in Minnesota gathered in Columbia Heights to celebrate this historic occasion. Guests were treated to speeches calling for a positive direction in political and economic progress of not only Ghana, but also Africa. Music and dance culminated the celebrations.
Clad in traditional regalia, the chair of the Ghanaian Association in Minnesota, Kwami Ahlelegbe, was enthusiastic about the progress that Ghana has made in the last fifty years. While he credited founding fathers for their role in developing and shaping their country's destiny, Ahlelegbe cautioned Ghanaians at being complacent in advocating for further development.
"It is our duty as a new generation of Africans to set our destiny. Our past leaders have played their role, it is our turn. "
The guest speaker, Benjamin Kodjo Taylor, a renowned entrepreneur, echoed Ahlelegbe's sentiments. He encouraged Ghanaians in the Diaspora to consider taking the risk of investing in Ghana as market risk is similar in all parts of the world. Taylor challenged the current Ghanaian administration to take on development projects such infrastructure development, health and nutrition and economic growth among other things.
"What role will you play in the future of Ghana?" he posed to his audience.






(No Ratings Yet)


Loading...