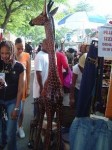 As Minnesota prepares itself for perhaps one of its largest multicultural fairs, Mshale had a chat with Nathan White who first had the dream of Afrifest.
Afrifest is borne from the idea of the African Festival of Arts, a festival in Chicago that celebrates the African culture and its influence in different communities and aspects of life in Africa.White, who a few years ago, stumbled on the festival while visiting Chicago was impressed by the music (blues, hip-hop, jazz and neo-soul), ethnic cuisine, arts and crafts, books and other unique vendors allowing him an opportunity to enjoy his culture with others. It is this experience that he wants to bring to Minnesota.
According to White, Afrifest will not only host African businesses selling services and goods targeting the African market, but it will also have a "Taste of Pan AfricaTM".
"A special section, Taste of Pan Africa will have African vendors who will sell authentic foods and beverages from Africa, the Caribbean, and other parts of the world."
Migration by Africans has influenced food and culture in various parts of the world, geographically isolated from Africa. It is these people that Afrifest hopes to reach out to—to come together for a celebration of culture. White professes that Afrifest will demonstrate that the different African cultures around the world, are not only unique to the rest of the world, but also similar to each other.
White would like to see "Africans, who have united across borders, influence and effect change in the motherland allowing Africa to crop up a new breed of politicians, innovators, environmentalists, business people, educators and citizens."
Update
Afrifest will be held on August 18th and 19th. For venues, schedules and details please visit www.afrifest.org .






(No Ratings Yet)


Loading...