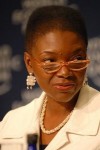 The 17th World Economic Forum (WEF) on Africa kicked off Wednesday with the leader of the House of Lords in the United Kingdom announcing one of the first donations to a new fund aimed at supporting businesses in Africa.

Baroness Amos told reporters at WEF-Africa that Britain would be contributing US$20 million (approx R140 million) over three years to the Africa Enterprise Development Fund, set up to encourage entrepreneurship on the continent.

In another development, a key report on economic competitiveness in Africa, produced jointly by the WEF, the World Bank and the African Development Bank,
was released.
The Africa Competitiveness Report 2007 identified improved access to finance as central to boosting economic activity on the continent, along with better infrastructure and stronger institutions.
"Low access to financial services emerges as a major obstacle for African enterprises, but poor infrastructure, corruption and weak institutions also make
African goods and services less competitive in the global marketplace," the report states.

The report gave South Africa an overall international competitiveness ranking of 46 out of 128 countries. South Africa was one out of 29 African countries measured.
The report outlined a number of steps that Africa's 53 countries can take to improve business conditions, stating that energy and transportation are among the main bottlenecks to productivity growth and competitiveness in Africa.
"Firms lose as much as eight percent of sales due to power outages, and transportation delays can account for as much as three percent of lost sales," the report states.

But the "critical constraint" to businesses in Africa – which reporters heard saw overall gross domestic product growth of 5.8 percent last year – is that of limited access to finance.
"Further, improvements in the regulatory environment (such as better collateralisation, transparency and auditing) represent a necessary step for unleashing the potential of finance for competitiveness in Africa," the Africa Competitiveness report 2007 states.
The African Enterprise Challenge Fund is one attempt to address increased access to finance on a continent that is already seeing rapid growth and where conference delegates are beginning to make comparisons – and detect differences – with the emerging economies of China and India.

Li Ruogu, chairperson of the Export-Import Bank of the People's Republic of China and Malvinder Singh, head of Ranbaxy Laboratories of India both brought their experiences to bear on the question of similarities and differences between China and India and that of Africa.
Mr Singh cited the large domestic market as benefiting India's growth once its economic reforms began, while Mr Li said that Africa must unite for its development. Mr Li said that good governance was not a precondition for development but rather a result of it.
Also at the opening press conference, Tokyo Sexwale, chairperson of Mvelaphanda Holdings said that while there were certain similarities, "Africa must find its own way". Regional economies must be integrated to a point where the continent's approximately 800 million people could comprise a harmonious market.

Cynthia Carroll, chief executive of mining giant Anglo American, added that the economic and political reforms in Africa that have placed the continent on its recent current growth trajectory – which has been above five percent continent-wide for the past three years – have been driven by Africans, rather than because of external pressures.
The United Kingdom Department for International Development said that the Africa Enterprise Challenge Fund would boost business development on the continent when it becomes operational from next year, offering grants of up to US$1,5 million.
These grants are to go to businesses that "provide innovative proposals for improving people's chances to take part in economic activity, particularly in the areas of finance and agriculture" [with 70 percent of Africans working in agriculture].
In another development, the International Finance Corporation – the private sector arm of the World Bank Group – on Wednesday announced its largest financing yet in sub-Saharan Africa.
This US$320 million package will go to five subsidiaries of Celtel International B.V to help expand and upgrade mobile data networks in the Democratic Republic of Congo, Madagascar, Malawi, Sierra Leone and Uganda.
Half of this amount comes from the IFC's own loan account, while the other half comes from syndicated loans with participating commercial banks.

President Thabo Mbeki was later on Wednesday to deliver the opening address to the 800 delegates and 300 journalists at the three-day summit annual conference.





(No Ratings Yet)


Loading...