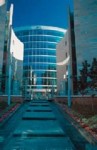 South Africa's Johannesburg Stock Exchange (JSE) was named Africa's best stock exchange, New York-based Citigroup as Africa's best investment bank, and Kenya Commercial Bank as the continent's top performing company at the 2007 Africa Investor Index Awards ceremony at the London Stock Exchange last week.
Based on the Ai40 and Ai100 indices of investment research and publishing group Africa Investor, the Ai Index Awards reward the best performing stock exchanges, listed companies, investment banks, research teams and fund managers on the continent.
According to the Sunday Times, 100 senior executives gathered at the gala ceremony to celebrate Africa's "top capital market performers".
Allan Kamau, executive editor of Africa Investor,was quoted by The Sunday Times as saying the JSE had come out tops largely because of its innovation in setting up indices for smaller companies as well as socially responsible companies.
The Stock Exchange of Mauritius came in second behind the JSE.
Citigroup, which clinched US$17-billion worth of deals across Africa in the year ended March 2007, beat strong competition from the likes of Investec, JP Morgan and Standard Bank Group to take the best investment bank award.
Kenya Commercial Bank took the award for best performing Ai40 company ahead of firms such as Orascom Construction (based in Egypt), West Africa Portland Cement (Nigeria), MTN Group (South Africa) and United Bank for Africa (Nigeria).
The other Ai Index Award winners were:
Best performing Ai100 company: Egyptian Iron & Steel
Best Africa research team: Databank
Best Africa fund manager: Emerging Markets Management LLC
Best African IPO: Dangote Sugar Refinery
The Ai40 is a weekly, value-traded adjusted, market capitalization-weighted index.
It captures the largest and most liquid publicly traded stocks across Africa by ranking them by market capitalisation and by liquidity as measured by the average daily value traded in US Dollars. To ensure regional diversification it sets a country cap on the bigger markets such as South Africa and Egypt in order to capture companies in smaller markets with a market cap in excess of $ 150 million. The index was launched on 30 December 2005 at a base value of 100.
Africa Investor is a specialist research and investment communications firm that supplies investors and policy makers with information on Africa's investment environment and sheds light on issues that inform investment decisions.





(No Ratings Yet)


Loading...