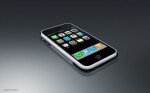 Apple's long awaited iPhone has finally hit the market. It is one of the most hyped high-tech gadgets in history and after all the months of waiting that speculation has come to an end.
The iPhone is an internet-enabled and multi-media GSM (audio, graphics, animation, text, video etc) phone by Apple. It is a combination of a mobile phone with a digital personal assistant, a multimedia player and a camera phone all in one. In addition, the iPhones' internet service capabilities range from full web browsing to email.
This new gadget has some captivating features for instance it has a feature that allows you to place a call on hold in order to answer an incoming call and it also enables you to swiftly access your contacts while you are on the phone.
Fantastic Features
• It has a proximity sensor that turns the screen off when it gets close to your face
• 4 GB and 8 GB of storage
• 2 megapixel camera
• Weight: 11.6 mm thick
• 3.5 480 by 320 touch screen
• Bluetooth 2.0
• Automatic Wi-Fi connection when in range
• Battery life: 5 hours talking and 16 hours playing music
• Full version of OS X
Benefits
• You get to keep your existing phone number
• Free calls to any iPhone
• Free area code selection
• Money back Guarantee
• Support for viewing Microsoft Word and Excel documents sent via email
Availability
These 4 and 8 GB state-of-the-art multimedia camera cell phones were released on Friday June 29th, 2007 in the U.S at $499 and $599 respectively. For now the Apple store and AT&T Mobility (Formerly Cingular wireless) are the exclusive providers. The iPhone will be released in Europe in the 4th quarter and in Asia in 2008.
Is it worth buying?
For the most part, the iPhone surpasses many phones in that it has the capability to multitask i.e. you can browse the internet while downloading your email. The iPhone maximized on the advanced features it offers to its users. If you need to browse the web, you can do so very comfortably as a result of the 3.5 display screen.





(No Ratings Yet)


Loading...