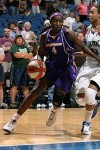 On Friday July 27th the Minnesota Lynx beat the Los Angeles Sparks 85-76 and ended their 10-game losing streak. It was an intense and memorable game for many Lynx fans. What was also noteworthy were the members of the African community that came out in support of Los Angeles Sparks guard and birthday girl Mwadi Mabika, a native of Congo. Mshale partnered up with The Minnesota Lynx to provide a night full of fun, food, and entertainment all in a reasonable package.
Mabika, being an international basketball player, has played in Israel, Greece, and Zaire and has been playing professional basketball in the United States for the past ten years. When asked how playing in Congo compares to playing in the United States, Mabika says that playing back home is harder because it's a different challenge. And adds, "but I like going back home and teaching [the game]." And despite the Sparks loss to the Lynx, Mabika taught a few things with her 14 points, 7 rebounds, and 3 steals.
After the game Mabika joined her fans for pictures, autographs, and a question & answer session. The fans even sang happy birthday to her as she walked out. Children and adults alike were excited to see a talented and skilled African WNBA player. And the crowd equally impressed Mabika. She said that aside from her friends, she has never had a group waiting for her after the game. So the pictures, happy birthday signs, Q & A and autographs proved the night a success.
In the future, Mshale Night hopes to incorporate a Minnesota Timberwolves game in some format, giving attendees the chance to experience another side of professional basketball. And while it's great to watch the game, participating is also exciting. The Lynx and the Timberwolves would like to tap into the African community even more by including some African music and dance performances during the half-time show. So keep your eyes and ears open – you don't want to miss the next Mshale Night at the Target Center!
For more information or tickets to the Minnesota Lynx and/or Timberwolves games, contact Aneisha Johnson at 612-673-8420 or ajohnson@timberwolves.com

Anna Otieno is a Special Correspondent for Mshale and reports on Faith, Politics, Health, Entertainment, and more. She enjoys various areas of media from print and television to research and analysis. She has a BA in Political Science with a focus on International Relations and an MA in Media Studies, Communication, both from Stanford University. She is also the founder and director of The Akinyi Foundation, an organization that focuses on humanitarian action by tying individual and group volunteers to domestic and international areas of need. Anna strives to disclose the most unique perspectives in life by utilizing the most creative styles. She's always in search of answers…"Always the beautiful answer who asks a more beautiful question." - e.e. cummings





(No Ratings Yet)


Loading...