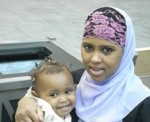 Sadiya Sahal was returning to her home in St. Paul Wednesday afternoon when she made a phone call to her relative in Minneapolis a half hour before the Interstate 35W bridge collapsed. The relative didn't answer that call, but now he wishes he did.
No one has heard from the 23-year-old mother since then. Her 19-month-old daughter, Hana Mohamed, was with her in the family's Toyota Highlander.
Sahal, who is five months pregnant, is a refugee from Somalia.
"The family is devastated and is in complete shock," said Omar Jamal, executive director of the Somali Justice Advocacy Center.
As a leader in the Somali community, the family enlisted Jamal's help to find Sahal.
Leaders of the Somali community were at the family's house most of Thursday to console the family. He said he's organizing a fund-raiser to try and put the word out.
"The family is hoping that [Sahal] is in the hospital or somewhere else," Jamal said. "We will do everything possible to locate her."
Jamal said authorities were supplied with information about the car Sahal was driving. Hospitals and other health facilities in the Twin Cities were checked with no luck.
Minneapolis Police Chief Tim Dolan told the press Thursday that "a number of vehicles… are underneath big pieces of concrete, and we do know we have some people in those vehicles."
Even under that grim prospect, Jamal said the family is hoping a miracle will happen.

Abdi Aynte was a news reporter for Mshale in his early journalism years. After a stint at Mshale, he moved on to the BBC, Voice of America and eventually relocated to Doha to join Al Jazeera. After leaving Al Jazeera, Aynte moved back to his homeland of Somalia to become the first Director of newly formed non-partisan Heritage Institute for Policy Studies (HIPS).





(No Ratings Yet)


Loading...