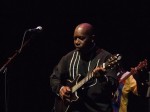 A Belizean musician is in a quest to save and preserve a minority culture with roots in West Africa.
Andy Palacio is on a mission to save himself. Or rather, to save his Garifuna culture that is on the verge of extinction. Palacio's preservation tool is his music, which he, along with the Garifuna Collective, performed for a capacity audience of 360 people inside the Walker Art Center on August 20th.
"I wish we were outside," lamented Palacio to his audience.
But poor local weather forced his band with its danceable groove indoors. Palacio began the hour-long show with a brief silence for those in the path of danger due to Hurricane Dean that was, at that time, approaching his Central American homeland of Belize.
Much of the music Palacio plays is dance music. Staff from the Walker urged people to remain seated during the performance to avoid blocking the view of those behind them. It was hard for people to sit still. The band, as well, seemed to be uneasy from the lack of synergistic energy from a dancing audience. In fact, during one number, Palacio coaxed fans out of their chairs, "just for this one time."
Most people needed little encouragement. People moved to a set of maracas, four guitars, a musician on a single drum and an irrepressible drummer. Palacio played guitar and sang lead vocals, but nearly everyone in the band added his voice to the mix. Melody dominated the music, replete with phrases and riffs that echoed in the listener's mind. The dancing groove was dictated by the conga drums. Watching their drummer, with his intensity and rhythmic power as he pounded on his four drums with his hands or used his fingers to whack one of two cymbals, was captivating.
The descendants of the Garifuna culture make up about 6 percent of Belize's 300,000 people. Their African ties began in 1635 when a pair of ships were caught in a storm and ran ashore while transporting captured West African slaves. The Garifuna resisted domination by both the French and English and were banished from their home in the Caribbean to British Honduras. Eventually they settled into the Caribbean coasts of Nicaragua, Honduras, Guatemala, and the southern part of present-day Belize.
In Palacio's youth, by chance, he traveled to Nicaragua. He came across a fellow Garifuna and learned of a continuous erosion of traditional culture in that country. When he realized that the same could happen in his own country of Belize, that there was a potential loss of his culture and its history, he felt compelled to intervene.
"I decided to follow my passion and focus more on performing Garifuna music as a way to keep the traditions alive long into the future," Palacio is reported to have told Rock, Paper, Scissors, a world music website.
In his performance at the Walker, Palacio exposed his audience to the multigenerational aspect of his music when he brought Garifuna music legend, Paul Nabor, on stage. Nabor is dressed smartly in a pin stripe grey suit coat and pants, but also, underneath, he wears a thick fleece jacket, fleece gloves, a knitted cap and a Honduran hat. His hand trembles as he holds the microphone, but his voice is powerful and true. A woman rises from her seat to pay him homage by dancing on stage before him. This septuagenarian elicits a strong response in the audience.
The piece of living history was the highlight of the show. While Palacio's music stands alone as dynamic and worthy, his quest to continue the traditions of his people and carry on the culture of the Garifuna pushes him past the flashy pop musicians of today. The value of history cannot be understated. Thank goodness for people like Palacio and his band who recognize this and seek to retain tradition with such an enjoyable approach.
Susan is based in Minneapolis and reports on general assignments for Mshale with a focus on entertainment. In addition to reporting, she is also a writer, poet, teacher and coach.





(No Ratings Yet)


Loading...