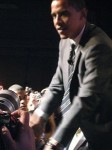 Presidential hopeful promises change of policy toward Africa if elected
LAS VEGAS – Democratic presidential candidate, Sen. Barack Obama, told a convention of black journalists in Las Vegas that the genocide in Darfur has continued for the worse because the United States has failed to intervene.
"That is a consequence of us not being consistently engaged in Africa," Obama told a crowd of more that 3,000 black journalists, who had gathered there for the 32nd annual convention of the National Association of Black Journalists.
Obama asked the U.S. government to take advantage of the unanimous vote to send 26,000 peacekeeping troops to Darfur, cast in July by the 15 members of the United Nations Security Council, to ensure the ongoing genocide comes to an end. One step the U.S. could take, Obama said, was enforce a no-fly zone, which he said should be "the bare minimum."
Since 2003, when the conflict in Darfur began, the United Nations estimates that the Janjaweed, an Arab militia backed by the Sudanese government, has killed at least 450,000 black Africans. Members of the militia continue to set homes ablaze and have driven more that 2 million people out of the region. Most black Africans have sought refuge in neighboring Chad.
Obama said to avert future crises in Africa, the United States should be more involved in the continent during times of peace.
"We can't wait until all hell breaks loose," he said. "We can't wait until genocide takes place."
He suggested the United States participate in education and improving African people's standard of living to avoid future violence in the continent. Continued neglect of Africa would make the continent a recruitment target for terrorist organizations, he warned.
Obama gave special recognition to ethnic media, which he said covered issues that the mainstream press gave very little attention. He challenged other black journalists to follow suit and tell stories that show how poor black Americans are suffering.
"Tell the stories that will lift up African Americans," Obama said. "Show their difficulties and struggles."
Edwin Okong'o is a Mshale Contributing Editor. Formerly he was the newspaper's editor.





(No Ratings Yet)


Loading...