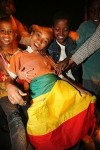 Sept.12, 2006 was a big day for Ethiopians. It marked the beginning of the second millennium according to the Ethiopian calendar, also known as the Ge'ez calendar. Thousands of Ethiopians around the world gathered to celebrate the Ethiopian Millennium—which has also been dubbed the African millennium.
The Ethiopian calendar is unique because it comprises 13 months. Twelve of the months have 30 days, while the last month has five days, except in a leap year when it has six days. The Ethiopian calendar, which is based on the ancient Julian calendar, is approximately seven years behind the Gregorian calendar that is used by most of the rest of the world.
A festive mood
In several locations around the Twin Cities, cultural celebrations and speeches for a better future were delivered by a hopeful and united Ethiopian community. The largest celebrations, however, were in St. Louis Park where hundreds gathered for a big festival to usher in the new millennium.
The excitement was contagious as friends and families laughed and talked as they ate injera and other traditional Ethiopian delicacies. Reminiscent of a parade, kids ran around with the Ethiopian flags, while teenagers wore T-shirts proclaiming their love for Ethiopia.
This event sees "for the first time in the history of our community, several religious, business and community organizations come together in the celebration of the New Year," said Tadael Emiru, one of the event's organizers.
Lively traditional dances and songs were the highlight of the event as musicians and poets entertained.
The executive director of the Council of Black Minnesotans, Lester R. Collins called on the growing Minnesotan Ethiopian community to engage in dialog with the larger African community. The council, which was created to address the needs of Minnesotans of African descent, has over the years worked with not only the Ethiopian community, but also other African communities in addressing state and federal government policy issues such as immigration.
Tamene Melkamu, the president of the Ethiopian Community in Minnesota pointed out that while Ethiopians should embrace and highlight the success of their culture, it was also important to explore the future moving towards a "one Ethiopia."
Yohannes Jejerso, a local Ethiopian musician was excited about the Ethiopian millennium. "This is a unique time in the making of history," Jejerso said. "It is an opportunity to write a new history for our people."
He urged Ethiopians to think about what they had done as a community and create necessary changes.
In St. Paul, Fasika, a favorite for Ethiopian cuisine lovers, saw many new customers and veterans during the Millennium weekend.
"Although, we were kept on our feet all night, for many of our patrons this was a great way to experience our nation's holiday with family and friends away from home," said Atnafu Yeshidagne, the owner of the restaurant.






(No Ratings Yet)


Loading...