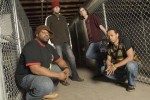 Yohannes "Johnny" Tona was born into a musical family in Ethiopia. In November, his band – The Yohannes Tona Ban – released his first CD making a name for himself in the Minneapolis Jazz scene.
MINNEAPOLIS – It is obvious when listening to Yohannes Tona's compositions that he draws his music from everywhere. Born into a gospel musical family in Shashamane, 150 miles from Addis Ababa, Yohannes has wanted to play the guitar for as long as he can remember. His late father was an organist, while his mother was a renowned gospel vocalist. Apart from gospel music, his other influences growing up were traditional Ethiopian music, reggae and beats from West Africa.
Humble Beginnings
"I would watch the church guitarist play as the choir rehearsed in my mother's living room," he recalls. "Every chord he struck, I learnt."
When his mother was at work, Johnny would practice on the guitar. One day when he was eight he played several songs to his shocked mother. A single mother, with limited earnings, she recognized his passion and talent and did everything to make her son realize his musical dream including getting Tona his first guitar. Thus began his musical career. A few years later, he was playing in the church choir. As soon as he was old enough, he traveled all over Ethiopia accompanying his mother in her gospel tours.
He laughs and shakes his head when he thinks of his first guitar.
"It was a terrible Russian guitar, but it allowed me to practice every musical album, every recording that I could lay my hands on," he says.
He did graduate from the Russian guitar when he was sixteen. Renowned German evangelist, Reinhardt Bonke, was visiting Ethiopia when, a few days before the conference, Tona was asked to play the acoustic bass guitar for the conference. Although Tona did not own or know how to play the bass, he promised the organizers that he would be ready in time for the conference. With just a few days to spare, he rushed to a carpenter and attempted to convert his six-string guitar to a four-string bass guitar.
"I asked the carpenter to adjust the number of strings and to curve a hole on the base of the guitar. It was a big risk I knew, but I looked forward to the challenge," he says.
That weekend, he played to thousands of people from different parts of East Africa earning him local fame.
So far, Tona had not had any formal musical training. But after high school he was admitted to the only music school in Ethiopia, Yared Music School where he excelled earning him a scholarship to Boston's Berklee College of Music.
On a visit to Minneapolis, he was recruited to become the music director for the Ethiopian Church. Over the past five years, Tona has slowly established himself on the local jazz and gospel scenes. He has played with Grammy-nominated Excelsior Choir, Dr. Mambo's Combo, Darnell Davis and the Remnant Gospel Group, and with top area vocalists including T. Mychal Rambo, Bruce Henry, and Debbie Duncan.
While in Ethiopia, Tona made a crossover into jazz when he played in coffee shops and high profile venues with a band known as the Afro Sound playing what Tona calls Ethio Jazz. He has continued to play with many Ethiopian artists including Teddy Afro, Danny Wolde and Addis Demelew.
It is with this experience and exposure that in late 2004 Tona formed his band.
Sand from the Desert
In November, Tona and his band, the Yohannes Tona Band, played at the Dakota Jazz Club where guest heard a sampling of music from "Sand from the Desert," Tona's first CD.
While not exactly Afrofunk, the composition is as eclectic as Tona's influences. Of his music, Tona says, "I play different styles fusing African, old classical and contemporary jazz sounds to make an authentic sound— an Afrofunkjazz sound."
His band includes: Brian Kendrick (drums), Peter Vricks (sax), Brian Ziemniak (keyboards) and Patrice Delemos (percussion).
The album includes an Afrofunkjazz remake of Miles Davis' "Saw What" and John Coltranes's "Naima." The rest of the album comprises ten of Tona's original compositions. "Ride Around Addis Ababa," with vocalist Hana Shenkute is a traditional Ethiopian wedding song with definite influences from the first music that Tona played. Tona collaborates with local Neo Soul artist Aimee Bryant on a soulful composition, "The Kerims." A local Cameroonian, Kenn Wannaku, Damel Davis and the Remnants collaborate with Tona on "World Praize," an upbeat worship song heavy on percussions with a West African influence. Other collaborations on the CD include Stokey Williams of Mint Condition and Nachito Herrera.
————————————————————————————
You can sample Yohannes Tona's music on his MySpace profile here. You can also hear him play every Wednesday at T's Place (formerly known as Dashen), Sunday and Monday at the Bunker's Music Bar and Grill and Tuesdays at the Blue Nile.






(No Ratings Yet)


Loading...