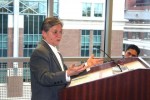 MINNEAPOLIS – A top University of Minnesota official in charge of reaching out to underrepresented communities said today that the institution was far from achieving its goal of a diverse student body, faculty and staff, and appealed to ethnic media to help.
Nancy "Rusty" Barceló, the vice president and vice provost for equity and diversity, spoke to journalists, editors and publishers of various Twin Cities ethnic media, gathered at her invitation for a breakfast meeting at the university's Coffman Memorial Union.
"This university is not as diverse as we want it to be," Barceló said. "When I walk on this campus I don't see enough African American students, faculty and staff."
The call to the ethnic press was part of her office's strategy to communicate with minority and underrepresented communities, Barceló said.
"I see this meeting as just the beginning," she said, "a way to start identifying how we can all work together to help our communities that each one of us serve."
Barceló asked members of minority media to start thinking of ways that could be used, in addition to advertising, to reach to their communities.
"There are many, many, more points of collaboration that reflect our shared vision of education and investment in our community," Barceló said.
Many of Barceló's guests decried the university's unwillingness to advertise in minority papers. One of them waved a half-page advertisement the university had placed in one mainstream newspaper and wondered why small community papers had been denied access.
In response, Barceló's promised to contact each individual news medium that was represented at the meeting to find ways they could work together.
Edwin Okong'o is a Mshale Contributing Editor. Formerly he was the newspaper's editor.





(No Ratings Yet)


Loading...