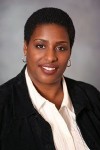 ST. PAUL, Minn. – The board of directors of the Minnesota League of Women Voters appointed local attorney Keesha Gaskins, as the organization's executive director, according to an announcement released by the group last month.
Gaskins, who previously headed the Minnesota Women's Political Caucus, started in her new position on Dec. 17. She will lead the organization and its education fund.
"I am delighted with the credentials and skills Keesha brings to this position," said Sally Sawyer, who retired after serving 28 years as executive director of the league. "She represents a new, dynamic leadership for us. She will advance our league mission of being a voice for citizens and a voice for change."
Gaskins received her law degree from Northeastern University School of Law in Boston in 1999. While practicing law, she honed her political advocacy skills by taking the Debate Boot Camp and Vote Run Lead training through the White House Project. Prior to that, she participated in the NAACP National Leadership Training and the AFL-CIO Political Action Training.
"I am energized by the league's work with all generations and especially its commitment to inspiring the leadership of young women in public life," said Gaskins after her appointment. "The league educates and encourages citizens to be active. I admire the league and I am proud to be a part of it."
Gaskins has been a litigation attorney with Bowman and Brooke, L.L.P., Arthur, Chapman, Kettering, Smetak, & Pikala, P.A. and Peterson, Fishman, Livgard & Capistrant, P.A, representing corporations in product liability, contractual matters and employment law.
But she is no stranger in service to the community. While practicing law, she served as a volunteer Special Appellate Public Defender for the state of Minnesota. Gaskins also served on the board of the Minnesota State Bar Association, Minneapolis YWCA, Girl Scout Council of Greater Minneapolis and NAACP Minneapolis Branch. She also served as a State Director of the Minnesota Democratic Farmer Labor Party.
"Keesha's keen wit and intelligence will be assets as she manages the league's many voter services, education projects and collaborations," said Long- time league member Carol Frisch, who chaired the search committee said.
Judy Stuthman and Vivian Jenkins Nelsen serve as co-presidents of the league.
"Keesha joins our leadership team at a critical time," Nelsen said. "We are the first newly elected co-presidents and nearly half the board is new."
Nelsen said the league had two projects: "The State of Democracy in Minnesota," focusing on diversity, and "Transforming Minnesota Through Cross-Cultural Dialogues." Early this year, the league will announce a position from its research on judicial selection to advocate at the next legislative session, she said.
Founded in 1919, the League of Women Voters of Minnesota is a non-partisan, grassroots, volunteer organization with 42 local leagues statewide. The organization's members research, find consensus on, advocate, and lobby for selected public policy issues. The group is best known for encouraging citizen participation in the electoral process through voter registration and the organization of public forums and candidate debates for citizen education. It registered more than 6,500 new voters in 2007.





(No Ratings Yet)


Loading...