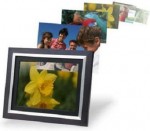 The Toshiba Tekbright digital photo frame allows you to display your digital photos in your living room in the blink of an eye. Effortlessly and continuously, view photos of your beautiful loved ones without having to dig up old dusty photo albums.
The technology that makes this all possible is recent. The Toshiba Tekbright 7-inch digital photo frame is a picturesque gadget that allows us to instantly share precious memories. The Toshiba digital photo frame has an exquisite modern look that encompasses a user-friendly interface, producing quality images through its built-in card reader.
This newly surfaced technology is a must have as it would nicely blend in with your contemporary home furnishings assuming you are into trendy artifacts. It accepts several photo formats as well as MP3s. In addition, the newly released Toshiba photo frame features a 64MB built-in flash memory, a 7-inch LCD touch screen with a 720×480 pixel resolution and a USB 2.0 connection to name a few. The digital photo frame is currently going for $134.99 after an instant $15 rebate.

Smart Features:
• User-friendly Interface
• Easily view, download and copy photos
• Has a USB cable that directly connects to your computer
• 7-inch high resolution TFT display
• Displays in form of slide shows, thumbnails and full screen pictures
• Internal memory storage for up to 60 photos
• Accepts SD, MS, MMS, MS PRO, xD and CF memory card formats
• Enables automatic turning on and off at set times
• Brightness control
• Supports JPEG, BMP formats
• Has one year limited warranty
This hottest stylish Toshiba photo frame would come in handy for those who did not get a chance to meet up with cherished ones over the holidays. You can also connect it to your 21-inch screen laptop for editing as well. It also allows for music to concurrently play in the background while randomly flashing treasured memories.





(No Ratings Yet)


Loading...