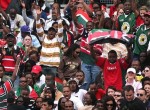 Like they do every February, South Africa and Kenya will head down to southern California for the annual USA Sevens rugby tournament.
The two-day competition begins on Feb. 9 and is the fourth event in the 2007/2008 International Rugby Board Sevens World Series.
Played on the same size field as traditional 15 a-side rugby, sevens rugby is played with only seven players per team. In addition to a keen understanding of how the game is played, pure speed and athleticism are the foundation for the sevens rugby standout. The demanding nature of the game – non-stop action and thrilling attacks – makes it possible for countries ranked low in 15 a-side tournaments to defeat power houses.
The USA Sevens debuted at the Home Depot Center in Los Angeles in February 2004, marking the first time the United States ever hosted an official IRB event of this magnitude and world importance. The tournament is now held at Petco Park in San Diego, Calif.
The host, US Eagles, will be facing a challenging opening day against South Africa and England.
Fiji finished runners-up to New Zealand in both events in December and face a tough challenge in pool B against island rivals Samoa, Australia and a combined West Indies side.
The New Zealand Kiwis, under Coach Gordon Tietjens, has stormed to an early lead in the Series with Cup wins in Dubai and South Africa. They top pool A, and will kick off the action on day one against Wales before also taking on Scotland and France.
Fiji finished runners-up to the Kiwis in both events in December and face a tough challenge in pool B against island rivals Samoa, Australia and a combined West Indies side.
After a strong start to the season rejuvenated Argentina are number three seeds in San Diego and top pool C, which also features Kenya, Canada and Chile.
South Africa, meanwhile, currently lie in third place in the series with two semi final appearances and they face England, Mexico and hosts USA, who will be hoping for more heroics from flying wing Takudswa Ngwenya in pool D.
"Having an IRB Sevens World Series event played in a baseball stadium for the first time was a new experience for the teams last year and one that proved hugely successful and popular with the players," said IRB Sevens Manager Beth Coalter.
"General interest and ticket sales are already well up on previous USA Sevens and, given the support that the Pacific Island teams have in the States in particular, Fiji-Samoa on day one is bound to create a great atmosphere. More support is also guaranteed for the home team now that the Eagles have started winning on a regular basis. San Diego offers something different, definitely not one to miss," Coalter added.
Coalter said television coverage of the series also continues to increase for fans not able to make it to the stadium. U.S.A., Scotland and the Middle East all increased their coverage of the first two events, Romanian broadcasters came on board for the first time and in-flight British Airways and Cathay Pacific joined Emirates in showing highlights, she said.
Apart from rugby, USA Sevens serves as an unofficial reunion for young Kenyans in the United States, who arrive in San Diego as early as two days earlier for nights of non-stop parties.
Pool A
Pool B
Pool C
Pool D
New Zealand
Fiji
Argentina
South Africa
Scotland
Samoa
Kenya
England
Wales
Australia
Canada
U.S.A
France
West Indies
Chile
Mexico
Edwin Okong'o is a Mshale Contributing Editor. Formerly he was the newspaper's editor.





(No Ratings Yet)


Loading...