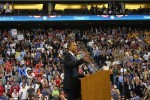 ST. PAUL, Minn. — Illinois Sen. Barack Obama made history yesterday by becoming the Democratic Party presidential nominee, making him the first African American ever to lead a major party into the U.S. presidential elections.
By the time the last primaries closed in Montana and South Dakota, Obama had managed to garner 2156 delegates, 38 more than he needed to clinch the nomination.
""Tonight, I can stand here and say that I will be the Democratic nominee for President of the United States," Obama said amid cheers and chants of "Yes we can" from tens of thousands of people who turned up at a rally in St. Paul.  "This is our time. This is our moment. This is our time – our time to turn the page on the policies of the past. Our time to bring new energy and new ideas to the challenges we face. This was the moment — this was the time — when we came together to remake this great nation so that it may always reflects our very best selves, and our highest ideals."

The shouts from the 17,000 people in the audience were deafening, the excitement infectious. There were continued standing ovations as Obama supporters jumped up and down cheering him on. And moments when Obama had to pause to let his supporters express themselves as they screamed and shouted in joy at his victory.
"Yes, we can! Yes we can!" "Obama we love you!"
In what has become his gentleman trademark, Obama praised his opponent Sen. Hillary Clinton for her historic run as a Democratic presidential candidate.
"[She is] a leader who inspires millions of Americans with her strength, her courage and her commitment to the causes that brought us here tonight, Obama said. "I am a better candidate for having competed with Senator Clinton."
Obama called for the unity of the Democratic Party, which has been divided by a long and sometimes bitter competition for nomination.

The obviously Democratic crowd, booed and shouted when Obama mentioned the Republican National Convention that will take place in the same arena, the Xcel Energy Center, in September.
In an apparent launch to his campaign against Republicans, Obama criticized Sen. John McCain on everything from his obsession with the war in Iraq to his disregard of people who have been hit hardest by the failing U.S. economy.
Read and listen to Obama's speech in its entirety here.






(No Ratings Yet)


Loading...