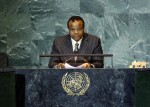 NEW YORK – The soaring cost of fuel and basic foods over the past year has left many countries in sub-Saharan Africa unable to adequately fund critical activities, such as health care and the provision of safe drinking water, their leaders told the General Assembly's annual high-level debate today.
Guinea-Bissau's President João Bernardo Vieira said the sharp rise in the cost of oil had been particularly destabilizing on the economy of his country, which is already among the poorest in the world.
"The lack of energy compromises seriously all socio-economic activities, hospitals in particular and the distributions of potable water, which is indispensable to guaranteeing hygiene and public health," he said.
Vieira said it was unfair to expect that countries such as Guinea-Bissau will have the economic wherewithal to absorb or adjust to the rise in energy costs when it still has to fund basic services for its citizens.
"What means do we have at our disposal to face the perverse consequences of a system which is poorly based in speculation and which has nothing to do with the law of offer and demand?" he asked.
"How can we invest and improve our infrastructure in such vital areas like health, education and agriculture if we are compelled to continuously spend large parts of our already limited resources to buy fuel?"
Zimbabwean President Robert Mugabe said it was crucial that national efforts to tackle the food and energy crises are complemented by appropriate international measures, including debt cancellation for low-income food-deficient countries.
"Adequate support for food production programs is absolutely necessary" he told the Assembly. "We call for more research into better seed varieties and assistance in irrigation technology and improved water harvesting methods necessary to mitigate the effects of climate change."
He reiterated his country's faith in multilateralism and called for greater democratization in the UN, saying that the present configuration made it subject to the use of the 15-member Security Council by the powerful countries "as a readily available legitimizing forum for their political machinations."
The Council, whose decisions are binding, must therefore be democratized through increasing its membership, he added, also calling for the Assembly, whose decisions are not, to be revitalized to make it more effective, reasserting "its pre-eminent role, its authority and its capacity to guide and direct other organs of the UN system."
Swaziland's King Mswati III said the high fuel and food prices were compounding existing stresses on poor countries caused by climate change, the HIV/AIDS epidemic and other diseases such as tuberculosis and malaria.
"It is encouraging to note that the United Nations, in particular the Food and Agriculture Organization (FAO) and World Food Programme (WFP), continue to assist developing countries in finding lasting solutions to the food crisis," he said.
He added that developing countries such as Swaziland were hopeful that the current Doha round of global trade negotiations, which have stalled, can still be successfully concluded.






(No Ratings Yet)


Loading...