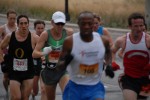 On the morning of October 5th outside the downtown Minneapolis Metrodome, participants in the 27th annual Medtronic Twin Cities Marathon awaited the horn. In comparison to last year's record high starting temperature of 72 degrees, this year's 48 degrees was perfect. The day was grey and the weather forecast predicted rain, but everyone was hoping for perfect weather. At 8:00am the runners were on their way, they passed the St. Mary's Basilica in downtown, a first in the many landmarks along the course with crowds cheering them on.
Because this race was designated by the USA Track & Field to be the USA Men's and Masters Marathon Championship the cash prizes were heavily slated towards American citizens and as a consequence many top notch elite male athletes were absent. All together there were seven elite African athletes. Richard Kandie, Callen Moraa and Zeddy Chepkoech from Kenya are part of the Duma Runners Club while Simon Sawe, Mary Akor and Macharia Yuot are naturalized U.S citizens who are natives of Kenya, Nigeria and Sudan respectively.
From the start the men kept up a 5 minute mile pace and in the beginning of the race a leading group ran in a tight pack. By the time they had got to Lake of the Isles Kandie was in the lead with Sawe close behind. At mile 7 seven it started to drizzle lightly and by mile 11 it was pounding cats and dogs, by half marathon the pack started to split and the Kenyans had dropped back. At mile 17 Fernando Cabada separated himself from the front pack of three and stayed way ahead of everyone else finishing the marathon in 2:16:32.
Cabada was extremely emotional about the win as he had been having a rough couple of months because of partying and a lack of seriousness. "I gave up a lot and trained really hard," he said with tears in his eyes, "When things weren't good, it was the worst time of my life and I don't wanna go back there," he added.
For the Africans this was a tough run. Richard Kandie, the first African to cross the finish line, came in 38th and Sudanese-born Macharia Yuot finished 39th while Kenyan-born Simon Sawe dropped out at mile 24. Sawe complained that it got too cold and he was having trouble with his right hamstring.
The women fared much better with Nigerian-born Mary Akor, winner of the gold medal at the grandma's marathon in June, finishing fourth despite running on an injured hamstring. "It was really cold and I am used to running in warmer weather," she said. "I like the kind of weather we had at Grandma's, but I had to finish the race because last year I dropped out," she added.
Kenyans Zeddy Chepkoech and Callen Moraa finished 10th and 22nd respectfully. They too complained about how cold the weather was, as most of them are used to running in much warmer climates.
There were many local African marathoners and it was a first for Kenyan, Grace Ngunu and Ethiopian, Samuel Kidane. Ngunu who was running to raise money for a slum in Kiandutu, clocked an amazing time of 3:38:18 and qualified to run the Boston Marathon. Both admitted that the marathon was one of the toughest things they ever had to do and while Ngunu is unsure about participating in the Boston marathon, Samuel is sure he won't be running another marathon for a long time.





(No Ratings Yet)


Loading...