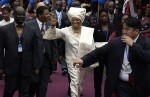 Iron Ladies of Liberia, a documentary on the leadership of Liberia's president Ellen Johnson-Sirleaf, will be screening at the St. Anthony Park Branch Library tomorrow.
The film goes behind the scenes as Johnson-Sirleaf takes the reigns of a country that has been on the brink of destruction following 14 years of a civil war. Through the film, the world gets a glimpse into the lives of Sirleaf's pre-dominately female cabinet as they face head-on the monumental challenges it takes to build Liberia's infrastructure and economy.
The other Iron Ladies of Liberia are: Beatrice Munah Sieh, Liberia's National Police Chief, Dr. Antoinette Sayeh, the Minister of Finance, the Minister of Justice Francis Johnson-Morris, the Commerce Minister Olubanke King Akerele and the Minister of Gender Vabah Kazaku Gayflor.
The film will follow with a discussion led by two attorneys: Laura Young and Harriette Badio who is also a  Liberian community leader.
Presented by The Advocates for Human Rights, this film is part of series highlighting women's rights issues around the world.
Click here for a full listing of other films in the series.
Read Mshale's review on last year's screening here.
"Iron Ladies of Liberia"
Wednesday, November 19, 7 p.m.
St. Anthony Park Branch Library, 2245 Como Ave, St. Paul, Minn.





(No Ratings Yet)


Loading...