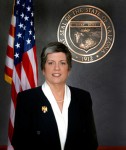 The anticipated selection of Arizona Governor Janet Napolitano to head the Department of Homeland Security demonstrates the incoming administration's interest in highlighting immigration within the federal agency's broad portfolio.
At the same time, it shows that Obama is seeking a moderate approach to this thorny issue, based on border security. In comparison to the Bush Administration, the selection is good news, although in terms of possibilities, it could have been better.
Arizona is ground zero in the immigration debate and Napolitano is definitely in the mix. The state has some of the country's strictest laws in terms of punishment of employers who hire the undocumented, and the governor was an enthusiastic supporter of mobilizing the National Guard to protect the border. Yet, Napolitano opposes the wall between Mexico and the US as ineffective and instead supports using technology in the area.
Napolitano charted an independent course on immigration in order to be politically successful in this conservative state. This has made her a controversial figure on both sides of the immigration debate.
While tough, she has also opposed a number of laws that set out to punish the undocumented, and she has criticized indiscriminate raids as well as the collaboration of police with immigration agents. She cut off state funds from Sheriff Joe Arpaio to stop his operations against the undocumented.
An individual with these qualities is a positive change for Homeland Security, which now engages in some of the most ruthless policies of recent times. The first steps must be taken to halt the massive raids that tear apart families, end deportation procedures that violate the rights of detainees, and stop the mistreatment of those in custody.
Napolitano can be invaluable in immigration reform because of her support for legalization and for temporary workers' programs. This will depend upon whether Obama puts his effort on immigration reform during his first year, as he has promised.
The selection of Napolitano is an improvement over the current head of Homeland Security. Her experience as a governor and as a federal prosecutor will be useful when leading the federal agency's huge bureaucracy as well as its other law enforcement responsibilities.
In considering her, Obama has made a positive statement for Homeland Security. That said, it will be the president who must balance between the more hard-line or moderate Napolitano.





(No Ratings Yet)


Loading...