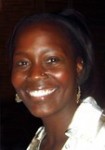 Mshale writer Anna Otieno was among a number of journalists honored at the annual Ethnic and Community Media Awards in Minneapolis. The award ceremony the first of its kind was co-sponsored by the Twin Cities Media Alliance and California-based New America Media.
Last year Otieno went to Washington D.C. where she covered the first Runway Africa– a high fashion catwalk showcasing African couture to raise awareness and money for AIDS. Otieno's subsequent article (read here) earned her second place in the Art and Culture division.
In a statement read on her behalf, Anna said that while reporting on the fashion show she used her responsibility as a journalist to tell the bigger story. "Behind each vibrant design and eclectic print was a story – a story about a fashion designer who celebrates the skills and talents of Ghanaian women, a story showcasing the handcrafted jewelry of Cape Town, a story of a fashion show that strives to fights AIDS in Africa in innovative ways, and a story of instilling hope and self-esteem in the beautiful African Diaspora."
Mshale's founder and publisher, Tom Gitaa expressed gratitude to the organizers and his staff, "I am very honored that Mshale won this award because we have invested a lot in our writers."
Minnesota's longest running ethnic newspaper, the Minnesota Spokesman-Recorder, was the leading publication of the evening, with top articles in three divisions. Another Minnesota African paper, the African News Journal was recognized for an article that highlighted the challenges that aging immigrant populations face with little or no access to public resources and infrastructure. Other publications honored were: Workday Minnesota, The Bridge, Korean Quarterly, Hmong Today, and Asian Pages.
Related: Twin Cities Honor Hyperlocal Journalism





(No Ratings Yet)


Loading...