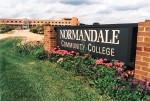 Bloomington, Minn–The last several months has seen thousands of Minnesotans, like other Americans, lose their jobs as the economy hits a recession. Many of these unemployed are turning to educational institutions so that they can have an edge in an ever-increasing competitive job market. Now, they can get started for free.
Normandale Community College announced this month that it will offer free tuition for some classes beginning January to people who are currently eligible for Minnesota's unemployment insurance benefits.
"By offering this tuition waiver, we can help provide unemployed Minnesotans access to the college courses they need to improve their opportunities for reemployment through retraining or education toward a new career," said Normandale president Dr. Joe Opatz.
Students will be eligible to receive free tuition during the spring semester, which begins Monday, January 12, 2009. A list of courses that qualify for the waivers is now available on the school's website.
Normandale will waive tuition for classes that are not already filled with students paying full tuition, Opatz said. The program will not cause any extra expense to the college because the classroom, the instructors and multimedia equipment will already be in use.
"We're providing an important service to Minnesotans in need while also being better stewards of the state's resources at a critical time," Opatz said in a statement.
Normandale will also provide programs and services to help unemployed Minnesotans find new work opportunities. These programs include free career exploration and planning services through the college's career and academic planning center. The resources of the center are also available free of charge to the general public.
Individuals interested in taking advantage of this new free tuition program should immediately apply for admission to Normandale using the college's on-line application by going to www.normandale.edu and clicking on "Apply" under the "Future Students" link. Students will be charged the regular $20 application fee, which will be reimbursed to students eligible for this new program.
In order to obtain the free tuition benefit and application fee waiver, students will have to provide documentation of their unemployment insurance eligibility to the Normandale Office of Admissions. All individuals who hold either a high school diploma or GED are eligible for admission to the college.
Students receiving the free tuition benefit will strongly be encouraged to complete the Free Application for Federal Student Financial Aid (FAFSA) to assure their maximum eligibility for additional student financial assistance toward student fees, books, supplies, living expenses and other non-tuition costs associated with attending college.

Wynfred Russell is a former faculty of the Department of African American & African Studies at the University of Minnesota-Twin Cities, where for six years he taught African history and culture. He has also taught African history and multicultural education at North Hennepin Community College and Century College. Russell is currently the Director of Normandale Community College's Center for Multicultural Services. 





(No Ratings Yet)


Loading...