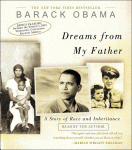 In his 457 page autobiographical book "Dreams from My Father", Barack Obama exposes a great mind destined to greatness.
As Shakespeare once wrote in his philosophical discourse – "some (men) are born great, some achieve greatness, and others have greatness thrust upon them." To be fair to Barack Hussein Obama, America's 44th President and the first African American to occupy the White House, he has earned his greatness.
He literally worked his way up from scratch – from a mere statistic to the most powerful man on the face of the earth! Yes, a remarkable young man!
His father, a Kenyan from the Luo tribe came to America in search of an education. He met Obama's mom from Kansas (then a teenage girl) and became an absentee father to little Barack. The task of raising the funny-looking child with a strange name lay squarely in this single mother of Caucasian descent with support from her family.
Obama's autobiography begins in New York, where Barack Obama learns that his father – "a figure he knows more as a myth than as a man – has been killed in a car accident in Kenya." He struggles in an emotional journey to Kansas, retraces the migration of his mother's family to Hawaii, then to Indonesia before reconnecting withy his African side of the family in Kenya.
His story is one of self-rediscovery. A story that in many ways accomplishes the impossible, that is to connect the dots of the intricate racial relations that have bedeviled mankind for centuries. He puts race where it belongs, a pigment of the skin and calls for humanity to be color-blind.
Barack fits in the pattern of a global citizen who is best suited to unite mankind across racial, religious and ethnic lines. If it works here in America, a vast country that symbolizes the melting pot of all races; it can work everywhere.
His mission to humanity and its vision came to him early in his life. He explains: "The opportunity to write (this book) first arose while I was still in law school, after my election as the first black president of the Harvard Law Review."
At the conceptual genesis of his book, his mind sailed through such topics as "the limits of civil rights litigation in bringing about racial equality, thoughts on the meaning of community and the restoration of public life through grassroots organizing, musings on affirmative action and Afro-centrism etc …….."
In the process of writing about his past, he had to struggle with his own cynicism, "a past that left (him) feeling exposed, even ashamed."  Obama looks back in his narrative on his first professional days as a lawyer in Chicago, "a town that is accustomed to its racial wounds and prides itself on a certain lack of sentiment."
He recalls his wife's six year old cousin reporting to his family "that his first grade classmates refused to play with him because of his dark, unblemished skin."
As a young man, Obama was conscious of what people thought about him. His mixed blood, a divided soul, or as he picturesquely put it "the ghostly image of the tragic mulatto trapped between two worlds."
"The tragedy is not mine alone", he explains, "it is yours, sons and daughters of Plymouth Rock and Ellis Island, it is yours, children of Africa. I sound like I am trying to hide from myself."
Then Obama made that remarkable trip to Kenya. This is how he saw his transformational visit to the land of his ancestors. In his own words: "for a span of weeks or months, you could experience the freedom that comes from not feeling watched, the freedom of believing that your hair grows as it's supposed to grow and that your rump sways the way a rump is supposed to sway.
"Here the world was black, and so you were just you, you could discover all those things that were unique to your life without living a lie or committing betrayal."
He captures a bit of Kenya's history when he wrote: "….the Mau Mau lay in Kenya's past. Kimathi had been captured and executed. Kenyatta had been released from prison and inaugurated Kenya's first president. He had immediately assured whites who were busy packing their bags that business would not be nationalized, that landholdings would be kept intact, so long as black man controlled the apparatus of government."
Barack Obama's remote understanding of the complex land question and tribal friction in Kenya is excusable, given his historical background. You cannot blame him when he sums up the Westerners' views on Kenya in these words:
"Kenya became the West's most stalwart pupil in Africa, a model of stability, a useful contrast to the chaos of Uganda, the failed socialism of Tanzania. Former freedom fighters returned to their villages or joined the civil service or ran for a seat in Parliament. Kimathi became a name on a street sign, thoroughly tamed for tourists."
Obama's connection to Africa must have revitalized him in many ways. He discovered an inner circle of a people where love was constant and claims unquestioned. Then a second circle, a realm of negotiated love, commitments freely chosen. It moves to a new level "until the circle (of friends) widens to embrace a nation or a race, or a particular moral course, and the commitments were no longer tied to a face or a name but were actually commitments (that people chose to embrace for the good of all)."
In Africa, he concludes, "family seemed to be everywhere, in stores, at the post office, on streets and in the parks, all of them fussing and fretting over Obama's long-lost son."
Barack Obama is a self-made man. He has been an architect of his own life. He works hard, has a positive attitude, believes in people, especially the youth who he inspired and motivated them to take part in community activities. He believes in the power of Information Technology and through it has created a powerful movement for change.
He does not only provide hope for his two lovely daughters Malia and Sasha, no he transcends family, tribe, religion, nation and shatters all boundaries to unite all people as a viable entity bent on achieving maximum good for all of humanity.
He provides hope for the wretched of the earth. He has inspired millions, a people who not long ago felt condemned to endless failure. He preached a positive message of change from the status quo of greed and self-centeredness for a few, to broad opportunities for the many.
He articulated that with a firm commitment and through a relentless effort to move forward to a desired destination for the common good, the ultimate honorable goal is achievable. He becomes the role model for underprivileged people all over the world.
Africans look upon Obama in the same way that they sized Nelson Mandela when he triumphed over apartheid. They see him as part of the realization of Dr. Martin Luther King's dream of forty plus years. This is a sure landmark of good eclipsing evil.
Obama is seen as the benchmark of new possibilities amidst a skewed world where social strata and age-old prejudices defined who you were supposed to be and kept you there. Most of all, they see him as a liberator, the black Moses who delivered the enslaved children of God from 400 years of slavery into a brand new world of freedoms.
Africa and Africans in the Diaspora, see Obama as a fresh ray of hope into the realms of possibilities and opportunities hitherto only dreamt about by those who thought they were condemned by a generational irreversible curse. A curse that led to loss of hope for millions of people, multiplied fear among them, spread despair, apathy, neglect and a feeling of hopelessness and helplessness in their ranks.
In a short span of time, he has transformed that feeling of "we cannot do it" for the many, to one in which the writing is now crystal clear on the wall – YES WE CAN DO IT.

Swallehe Msuya was a senior staff writer at Mshale with extensive media experience in his native Tanzania. He was a general assignments writer. Investigative stories that Mshale undertook were normally his responsibility. Swallehe passed away in Sept. 2009 at the age of 61. Mshale will forever miss his tenacity and wisdom.





(No Ratings Yet)


Loading...