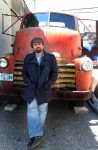 "This is a year of completion for me," e.g. bailey says in the
office of Trú Rúts Endeavors, the multidisciplinary arts organization
that he runs with his wife, Sha Cage.
His struggle to fit in America is not unlike that of many African
immigrants. He attributes his success as an award-winning
multidisciplinary artist and producer to this struggle of finding a
home away from home. 
bailey who was born in Saclepea, Liberia, is the son of a white
Peace Corps volunteer and a Liberian mother. His father, bailey says,
"threw a dart, hit Liberia, and that's where he got stationed." His
mother gave birth to him near the end of his father's second term; and
his parents lost touch after his father's return to America.
Even as a child he loved music and theater: two memories stand out in particular from his life in Liberia.
"There was a record store and a movie theater," he says. "I would spend hours in the record store listening to whatever they were playing."
The owner of the mud-constructed movie theater, however, wasn't particularly keen on offering free entertainment to the young movie revelers. "We would either sneak into the movie theater or we would drill holes in the side to watch the movie." After the owner realized this, he would take blindingly-hot Liberian red peppers, soak them in water, and put the mixture in a spray bottle, and spray into the holes to temporarily prevent onlookers from watching the film without paying. "It would be this constant game of trying to outwit [him], as soon as you saw a shadow coming."
One day, another Peace Corps volunteer came to his village and, after getting to know him, expressed interest in adopting him. Instead it was his father who ended up adopting the 10-year-old bailey after she sought out his father through the Peace Corps database.
After landing in Chicago, he was driven to his new home in Crystal Lake, an hour-and-a-half from Chicago. There was a parade the day he arrived, with money thrown from the floats.
"I thought it was a parade for me!" he says with a laugh. "The next day, I wake up, I'm like 'Ok, when are we going to the parade and when can we get more money?' That was the start of my life in the US."
Reality soon set in for bailey as he learned that life in America was not rosy for a new immigrant, "It was a struggle of trying to adapt and trying to fit in. Trying to figure out who I am and not fitting into any place, I always felt like I was running, that I couldn't stop moving."
Until he moved to Minneapolis, when he felt,"Ok, I can stop running now."
bailey's first connection to Minneapolis came not through the city itself, but through one of its most famous musicians. "I discovered Prince in [Crystal Lake's] record store. I think it was "Little Red Corvette." My ears just perked up, trying to find out who this person was, and I proceeded to get everything that he put out."
After moving to Minneapolis, he started performing solo and with a number of music groups, and worked in the retail division of Prince's famed Paisley Park complex, gaining crucial experience to navigate the shady mazes of the music industry when he formed Trú Rúts and its record label, Speakeasy Records.
He had a life-changing experience on a trip to the country of his birth after being gone for nearly 20 years. He returned to Liberia in 1999 as part of a four-month trip to Africa, the Middle East and East Asia. The trip, while crucial to his development as an artist as well as a person, was not what he expected.
"I realized that I could go back, but I could never live back home. I'd been away too long to be able to go back home and do what I'm supposed to do."
An overwhelming and inane sense of homelessness hit him, he says, "going home displaces you. You're no longer at home in either place. Home is what I had to create."
Thus homelessness and travel inform all of bailey's work, which symbolically channels his own experience through the larger histories of the African Diaspora. His album American African, scheduled for release in April, will appropriately feature a host of both American Africans and African Americans, including M.anifest, DJ Stage One, Mankwe Ndosi, IBé, and other international artists, including Germany's Starsky and Dubai's Abstract Collision.
"It's a testament to where African Americans and American Africans are," he says, encompassing the multitude of African, African American, and American African perspectives. "I want to avoid the idea of a monolithic Africa as much as possible."
The first single off of American African, "America," is a wide-ranging vision of the post-9/11 America that many immigrants find themselves in.
"America, I miss you," bailey intones at its opening. He delivers his words atop a bed of rolling drums and cymbals, electric bass, disorienting electronic sounds, and wailing saxophone. From Katrina to Guantanamo, Hollywood to Baghdad, the poem subtly welds together the long histories of racism and murder that stain America's past, yet without completely destroying the hope of something better. In the end, the music dies away as bailey softly, powerfully, declares "We're waiting for your resurrection."
bailey has an ambitious plan to release three more albums in 2009 that have been at various stages of completion throughout his work with TrúRúts. Yet completion always breeds the start of something new, whether it be the release of new albums from other artists in the Tfamily such as Quilombolas, TruthMaze, or El Guante. Or the birth of his first child with his wife Sha Cage.
Even though e.g. bailey has settled in one place after a long journey, his creative activity and poetic journeys show no signs of slowing down.
e.g bailey has produced "No Longer at Ease" (play), an adaption from the Chinua Achebe's novel for the Pangea World Theatre in May 2001; "Village Blues" (film); and "Words Will Heal the Wound", a spoken word radio series celebrating the diverse poetic traditions in Minnesota.
He received the Sarah Lawrence College International Film Festival (2001) Experimental Film award for Village Blues; the NFCB (National Federation of Community Broadcasters) award for Write On RaDio!; and the Worldstaff Houston International Festival (1999) Experimental Film award for Village Blues.
Visit his website for a full listing of productions, performances and awards.
Justin Schell is a Twin Cities based writer and a grad student at the University of Minnesota's Comparative Studies in Discourse and Society program. He's working on a dissertation on Twin Cities immigrant and diasporic hip-hop and plays the washboard tie with The Gated Community.





(No Ratings Yet)


Loading...