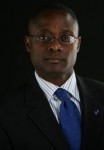 PRESS RELEASE
The League of Minnesota Human Rights Commissions has bestowed upon Wynfred N. Russell the 2009 Human Rights Award for his commitment and accomplishments in the cause of human rights. In the citation, Russell was commended for his service to numerous organizations and the community at large and for setting a "powerful example for all."
Russsell is well known for his involvement and advocacy regarding HIV/AIDS prevention and education among people of color, working with the African immigrant community, and promoting educational opportunities for underrepresented students.  The award reads that he is being recognized "for helping make this world a better place by promoting human rights and the greatest good for all people."
Russell is director of the Center for Multicultural Services at Normandale Community College in Bloomington and a former instructor in the Department of African American & African Studies at the University of Minnesota – Twin Cities, where for six years he taught African history and culture. He has also taught African history and multicultural education at North Hennepin Community College and Century College, respectively. Russell is currently a commissioner on the city of Brooklyn Park's Human Rights Commission.
In response to receiving the award, Russell said, "I am deeply humbled and gratified. This honor belongs to the many unrecognized heroes whose silent acts of tenacity and compassion have inspired me to continue to labor for the common good."
Nominees are judged on contributions that represent a substantial effort toward winning or preserving equality and justice for groups of people whose circumstances make them vulnerable to prejudice, discrimination, or injustice. Past awards have been given to other individuals and organizations whose activities have enhanced or protected human rights in Minnesota, including The Minnesota Civil Liberties Union, Geri Evans (former state representative), and Matthew Little (former Greater Minneapolis NAACP president).
The League of Minnesota Human Rights Commissions, founded in 1972, is a voluntary non-profit organization dedicated to the protection and advancement of human rights. League members are the various Human Rights Commissions chartered in cities and communities throughout the state. It is the only statewide agency concerned with fighting all forms of illegal discrimination. To find out more information about the organization, please visit www. hrusa.org/league.





(No Ratings Yet)


Loading...