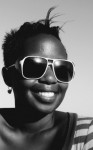 A soaring talent is heading for New York Fashion Week, writes Andrea Nagel of South Africa's Times Live
This year is big for Anisa Mpungwe, the creator of the clothing label Loin Cloth & Ashes, but then, she's had a big year every year for the past three years.
In 2008, she won the Elle New Talent competition which attracts young design talent from around the country. Mapungwe's fresh, unique and meticulously presented garments won her the coveted prize of "Young Designer of the Year".
In April last year, she showed her second range at the Spring/Summer Sanlam SA Fashion Week.
The collection, titled "Metropolis", depicted the challenges we face today as urbanites in a city imbued with many different cultures and traditions. The designs featured rigid, hard lines and stiff silhouettes, mixed with bright and warm hues.
In May last year, Mpungwe's first range with Mr Price, part of the "Project" collection, was distributed in select stores nationwide and in August last year, she showed at Sweden Fashion Week.
The Loin Cloth & Ashes 2010 winter collection, titled "Midnight", was launched in September last year at SA Sanlam Fashion Week and in December last year, Mapungwe was invited to show at Mozambique Fashion Week.
It was there that she worked with Jan Malan, who suggested to Nduka Obaigbena, the chairman and editor-in-chief of Arise Magazine, that the young up-and-coming designer be invited to show a collection at Mercedes Benz New York Fashion Week.
Mpungwe is one of three African designers, including Black Coffee and Nigerian designer Deola Sagoe, to be featured in the AriseMagazine Collective show that will take place this Saturday in the fashion capital.
Of showing her collection in New York, the young designer said: "I am completely blown away by this experience. My dream is about to come true and I feel that I must sit still and smile, because if I move one inch, the bubble just might burst."
Mpungwe is showing a new collection on Saturday.
"I was so inspired to show my clothes in this amazing city that I completed the collection in one week."
The theme of the collection is "Elsewhere" and the designer describes it as a wearable collection using a palette of earthy tones and metallic colours.
"I've used only fabric made in SA," says Mpungwe, who was born in Tanzania, but moved to South Africa in 1994. "The silhouette of the collection is lean and symmetrical. I like form and order. I'm the kind of person that won't stand on cracks in the sidewalk."
Her designs for the New York show are mathematically draped and she says that much of her inspiration was taken from the Japanese art of origami.
"I'm so pleased with this collection," she says. "I've done my own printing for the first time. I've designed origami birds with my logo on them that appear on the fabric."





(No Ratings Yet)


Loading...