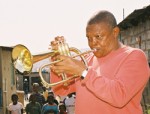 On Oct. 20-21, the legendary Hugh Masekela will perform four shows at the Dakota Jazz Club & Restaurant at 1010 Nicollet Ave. in downtown Minneapolis.
A giant on the global music scene, Mr. Masekela and his legendary trumpet have been making music, as well as international music history, for over a half century. In 1959 his group, "The Jazz Epistles" with Dollar Brand, became the first African jazz group to record an LP and performed to record-breaking audiences in Johannesburg and Cape Town.
The Sharpeville Massacre of 1960 formed a turning point in his life. The anti-apartheid Archbiship Trevor Huddleston, who had nurtured Mr. Masekela's interest in music since his early teen years in the secondary school where Archbishop Huddleston was the chaplain, helped him to escape the increasing brutality of the South African government and, along with international friends like Yehudi Menuhin, John Dankworth, and Harry Belafonte, Mr. Masekela entered the Guildhall School of Music in London and launched an international career.
After 20 years away from his native South Africa, Mr. Masekela's Christmas Day reunion concert in 1980 in Lesotho with former wife Miriam Makeba, was attended by 75,000 people.
He has had hits on American pop charts with "Up, Up and Away" and "Grazin' in the Grass"; has been featured in films, such as "Monterey Pop", "Amandla!", and the autobiographical "Still Grazing: The Musical Journey of Hugh Masekela". In 1987, his hit single "Bring Him Back Home" became an anthem for the movement to free Nelson Mandela. In 1988, he was nominated for a Tony Award with collaborator Mbongeni Ngema, for the score the Broadway hit "Sarafina!"
Shows on both nights are at 7:00 and 9:30 pm. Call for tickets: 612.332.1010 ext. 714. or buy online.
Guy Western covers a variety of story interests for Mshale. He is also an amateur poet and a retired gandy dancer.





(No Ratings Yet)


Loading...