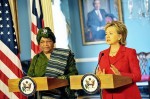 Modern technology has the power to transform societies and provide vital access to the tools that allow for education, training and networking, especially for women and girls in emerging post-conflict societies like Liberia and Sierra Leone.
Both West African nations have challenges facing women and girls, and both recently emerged from civil strife that included gender-based violence. To help offer opportunities for women and girls, the United States has sent an all-women technology delegation of leading U.S. innovators and entrepreneurs to the two nations from February 27 to March 4.
"While in West Africa, the group will explore how technology can increase opportunities for women and girls," the State Department said in an announcement February 25. "The delegation includes a mix of private sector, academia, civil society and entrepreneurs from across the United States."
And the trip is part of Secretary of State Hillary Rodham Clinton's mWomen initiative, which seeks to increase the number of mobile phones in the hands of women and girls in emerging nations, often where opportunity for their development and education has been inadequate.
"Through a series of site visits and meetings, the delegation will build partnerships and brainstorm ideas that can allow women and girls to better network and communicate and provide better access to education, health care, and economic opportunities through access to technology and tech-based tools," the State Department said.
Clinton has advanced the use of technology and innovation as part of the United States' 21st-century foreign policy as a means of changing the economic, social and cultural lives of people worldwide, the department said.
The delegation is being lead by Anne-Marie Slaughter, the State Department's director of policy and planning. She joined the department in 2009 from Princeton University, where she served as dean of the Woodrow Wilson School of Public and International Affairs.
Also in the delegation are Francoise Brougher, a vice president with the Internet giant Google; Susan McCue, president of Message Global LLC; Leila Chirayath Janah, president of Samasource; Trina DasGupta, the program director and mWomen director for the GSMA Development Fund; Henriette Kolb, chief executive officer of the Cherie Blair Foundation for Women; Maria Thomas, chief executive officer of Etsy.com; Ann Mei Chang, senior engineering director for emerging markets at Google; Jessica Verrilli from Twitter; Marisa McAuliffe of the State Department's policy planning staff and special assistant to the director; Shannon Nagy Cazeau, deputy director of the Office of Economic Policy staff in the State Department's Bureau of African Affairs; and Katie Dowd, innovation adviser in the Office of Innovation at the State Department.
The delegation was scheduled to visit Liberia from February 27 to March 2, and then Sierra Leone from March 2 to March 4, the department said.
"Liberia and Sierra Leone are now positioned to lead change and build better futures for women and girls, particularly with Liberia having the first female president in Africa" — Ellen Johnson Sirleaf, the department said. "This delegation travels at a critical time when technology can make transformative advances as these countries grow."
In Liberia, the delegation has meetings scheduled with President Ellen Johnson Sirleaf, Minister of Gender and Development Varbah Gayflor, Monrovia City Mayor Mary Broh, and business and civil society leaders, the department said. The delegation was scheduled to meet with Sierra Leonean President Ernest Bai Koroma on March 4 and also visit with business and civil society leaders.
Liberian President Sirleaf said in a prepared press statement that information technology has helped transform the world, and she hoped that the delegation's initiative in Liberia could generate enthusiasm and interest.
Margibi County District Education Officer James Daye told reporters, "We welcome the U.S. technical delegation's visit to Liberia, and we are impressed by the demonstration of how technology can be used to improve the quality of instruction to our students."





(No Ratings Yet)


Loading...