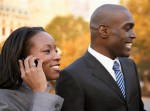 The number of minority-owned businesses in the U.S. jumped 45.5 percent from 2002 to 2007, more than double the 17.9 percent increase for U.S. businesses as a whole, according to Census data released Tuesday.
Revenues of minority-owned firms increased 55 percent to $1.0 trillion over the five-year period, compared with a 33 percent increase for all businesses nationwide. In 2007, more than one-fifth of the nation's 27.1 million firms were minority-owned.
Of the 5.8 million minority-owned firms, 766,533 had paid employees, an increase of 22 percent from 2002, the Census Bureau reported. These firms employed 5.8 million people, a 24 percent increase from 2002, and their payrolls totaled $164.1 billion, an increase of 42 percent.
In 2007, minority firms with no paid employees (nonemployers) numbered 5.0 million, an increase of 50 percent from 2002. These firms had receipts totaling $164.3 billion, an increase of 59 percent.
"Just as the 2010 Census has documented our increasingly diverse population, so too the Survey of Business Owners demonstrates the increasing diversity of U.S. business ownership," said Tom Mesenbourg, deputy director of the U.S. Census Bureau. "The growth in the number of minority-owned firms — both employers and nonemployers — has far outpaced that of businesses overall."
The new data are from the 2007 Survey of Business Owners: Company Summary, which provides statistics on minority and non-minority businesses every five years, as well as breakdowns and cross-tabulations by gender, race, ethnicity and veteran status.
For most minority groups, the gains in the number of women owners were higher than for men.
The three states with the largest number of minority-owned firms in 2007 were California, Texas and Florida. California had 1.2 million minority-owned firms, or more than a fifth of all minority-owned firms in the United States. Texas had 723,057 minority-owned firms, or 13 percent of all minority-owned firms, and Florida had 680,069 minority-owned firms, or 12 percent.
Among counties, Los Angeles County had the most minority-owned firms with 466,312, accounting for 45 percent of the county's total firms; followed by Miami-Dade County, Fla., with 286,596 (71 percent); Harris County, Texas, with 169,381 (46 percent); and Cook County, Ill., with 154,811 (30 percent) firms.





(No Ratings Yet)


Loading...