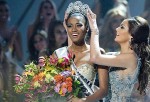 A new Miss Universe was crowned Monday night: She's Miss Angola, business student Leila Lopes, and she plans to work on HIV advocacy worldwide, in addition to helping her own country.
"As Miss Angola I've already done a lot to help my people," Lopes, 25, said Tuesday morning after taking home the crown. "I've worked with various social causes. I work with poor kids, I work in the fight against HIV. I work to protect the elderly and I have to do everything that my country needs.
"I think now as Miss Universe I will be able to do much more."
Those who weren't watching the Denver Broncos notch a loss to the Oakland Raiders were treated to a parade of international hotties doing their pageant thing in Sao Paulo, Brazil — and that "pageant thing" of course includes a final round of questions for the Top 5.
This year's questions included three that might've come directly from the Ministry of Gossip, plus a couple that clearly were not loaded with any political agenda whatsoever:
Nude beaches are common in some parts of the world. Is public nudity appropriate or inappropriate and why?
If you could change one of your physical characteristics, which one would it be and why?
If you could trade lives with anyone in history, who would it be and why?
Would you change your religious beliefs to marry the person you love? Why and why not?
What would you do to avoid fighting a war that you did not agree with it?
Miss Philippines stuck to her guns on the faith front, saying she wouldn't marry a person if she had to convert to do so, and that a person who loved her would respect her enough to love her God too. Miss Angola stuck with her own physical characteristics, thanking God for doing right by her in the looks department and reminding people that we should all respect one another.
Miss China, broaching the nudity question, gave a short answer about all countries having their own rules and customs, which should all be respected. Miss Brazil said she'd handle the war problem by explaining that war is not based on respect but rather "always based on misunderstanding, it's always based on a lack of education. So I would tell this person that we should respect each other as human beings."
Miss Ukraine, meanwhile, said she would swap lives with Cleopatra — "a very powerful and strong woman who is very much worthy of respect."
Here's the order in which they finished: Miss China, Luo Zilin, fourth runner-up; Miss Philippines, Shamcey Supsup, third runner-up; Miss Brazil, Priscila Machado, second runner-up; and Miss Ukraine, Olesia Stefanko, first runner-up.
Full Story @ LA Times.





(No Ratings Yet)


Loading...