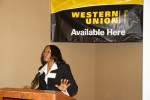 BROOKLYN CENTER, Minn. – Kenyan-American community and business leaders in Minnesota yesterday got an opportunity to learn more about Western Union's Mobile Money Transfer (MMT) service to Kenya, at an event hosted by Mshale Newspaper and sponsored by Western Union. Western Union started the MMT service in the United States in the second quarter of 2011.
The Mobile Money Transfer (MMT) service is known as M-Pesa in Kenya and has proved popular with Kenyans since its launching in 2003 by Safaricom, a Kenyan mobile telephony company. It now boasts over 14 million subscribers according to Central bank of Kenya statistics, placing the country as the innovation hub center in the world for mobile money transfers.
Kenyan global Diaspora remittances to Kenya for 2011 (excluding December) were US$806 million up from US$642 million in 2010 with close to half originating from North America, according to Central Bank of Kenya data.
Western Union Account Executive in charge of the Upper Midwest region, Rebecca Porter, highlighted the benefits and convenience of the service for recipients in Kenya. "With money available immediately on their handsets and at more convenient locations than ever before, this is a great thing for your family and friends", Ms. Porter said to a room full of some of the most influential Kenyan-Americans in the state.
Ms. Porter walked attendees through the process of sending money to recipients in Kenya using M-Pesa. "The most important thing is making sure you have the correct mobile number of your recipients, to avoid delays if money lands in someone else's M-Pesa account", she said. A participant, Fred Oduol, suggested Western Union liase more closely with Safaricom, the M-Pesa operator in kenya, to prevent any losses as the latter has tightened its processes to prevent this.
Those present were also able to send money to recipients in Kenya for free to the receivers'M-Pesa accounts. According to Ms. Porter this was the first time that Western Union has tried a money transfer at an offsite event location like was the case yesterday. One Dr. Thomas Nyambane, a local church leader, was unaware of the service and decided to give it a try. He was delighted to receive a call as he was about to leave the event venue from his surprised recipient. "It is 4:00 A.M. there (Kenya) and he (recipient) just got a text message saying he has money, this is wonderful," a broadly smiling Nyambane said.
Ms. Porter also fielded questions from the audience during a Q and A session moderated by Mshale founder, Tom Gitaa. Questions were split evenly between the M-Pesa service which were overwhelmingly positive but she also got an earful of concerns on other Western Union business practices such as the exchange rate with one Anthony Makundi, a local CPA, terming it woeful and wondered how it was determined. She responded that the rate is determined by market forces and can change quickly from the time one looks up the rate online to when they get to an agent location to send money. A local businessman, Joash Omandhi, raised a question about the refund of the service fee when a money send is not successful and one gets their money back. When money you send is returned, you do not get back the service fee. Mr. Omandhi was of the opinion that the service fee should also be refunded.
One question that resonated with the audience was community event sponsorships that Western Union was active in before but has been missing in action lately. One community leader, Paul Morande, commended the company for a past sponsorship of a community high school and college graduates celebration ceremony that it had sponsored before but no longer does and gave a testimonial of the successful partnership. "Some of the kids from the last graduation ceremony you sponsored have gone on to very good colleges and we thank you for that" Mr. Morande said, but quickly pivoted and echoed the community sentiment for a reinstatement of the partnership.
One community leader, Joan Misoi, however aptly summed up the evening's mood. Apparently fired up by the evening's proceedings she wanted to know how she can get the word out on the M-Pesa service. A pleased Ms. Porter promised to team up with her and the community to make that possible.
In the absence of an official launch of the MMT service in the region by Western Union, yesterday's gathering hosted by Mshale Newspaper had the trappings and feel of a product launch.

Miriam is a general assignment reporter at Mshale.





(No Ratings Yet)


Loading...