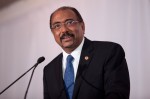 The Joint United Nations Programme on HIV/AIDS (UNAIDS) welcomed today a $12 billion commitment by international partners to the Global Fund to Fight AIDS, Tuberculosis and Malaria at its fourth replenishment meeting in Washington, DC.
"Support for the Global Fund comes at a crucial point – in many parts of the world we are entering into a 'make or break' point in progressing towards our goals," said Michel Sidibé, Executive Director of UNAIDS, applauding the commitments made at the meeting, which comes on the heels of Sunday's commemoration of World AIDS Day.
"These pledges are a demonstration of global solidarity and trust to move towards ending the three diseases," he said.
Echoing that sentiment was Mark Dybul, Executive Director of the Global Fund, who said in closing remarks: "The 21st century ideals that led to the founding of the Global Fund are now stronger than ever: partnership, shared responsibility, and mutual accountability. In many ways, this is a replenishment of hope. It is a lifting up of the human spirit."
"We've had a terrific beginning," said Dr. Nafsiah Mboi, Chair of the Board of the Global Fund, who led the pledging session, which aimed to generate funds for the next three years. "I offer heartfelt thanks for the generosity of all partners in this effort. Now let's go to work."
Delivering remarks on behalf of UN Secretary-General Ban Ki-moon, Mr. Sidibé said that while ongoing support has led to many advances in the response, AIDS, TB and malaria financing from the international community remains a lifeline for millions of people.
"We must act with resolve to preserve these gains, which remain fragile. If bed nets and anti-malarials are not delivered and used in time, malaria will continue to spread. Drug-resistant tuberculosis is on the increase, he said, adding that an AIDS-free world is in sight, but success depends on our unwavering resolve to bring treatment to the nearly three in 10 children and adults who still do not have access to it.
"We need to work smarter and better to truly end these infectious diseases."
Opened by United States President Barack Obama, the meeting was also an opportunity for world leaders and partners to review progress and look to the future. According to UNAIDS, the new commitments represent a sharp increase compared to pledges made at the previous replenishment conference of $9.2 billion.
Shared responsibility by countries has also grown. Domestic spending on HIV has increased, accounting for approximately of 53 per cent of global HIV resources in 2012. The total global resources available for HIV in 2012 were estimated at $18.9 billion.






(No Ratings Yet)


Loading...