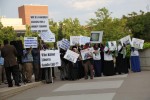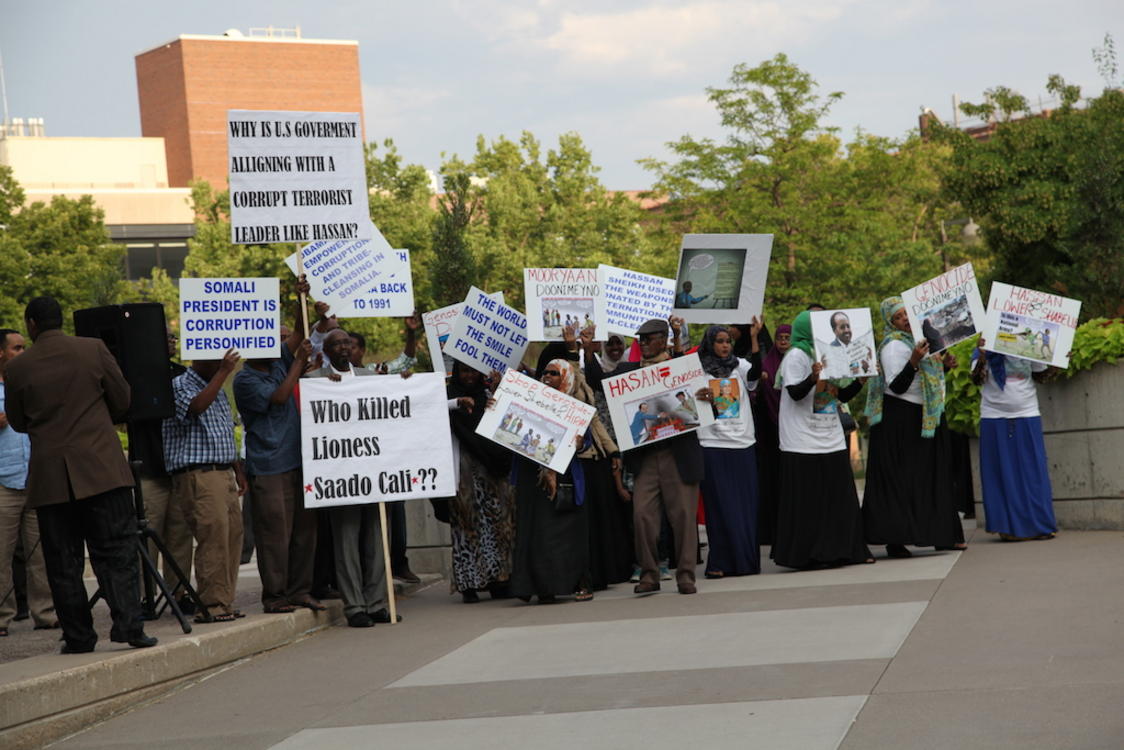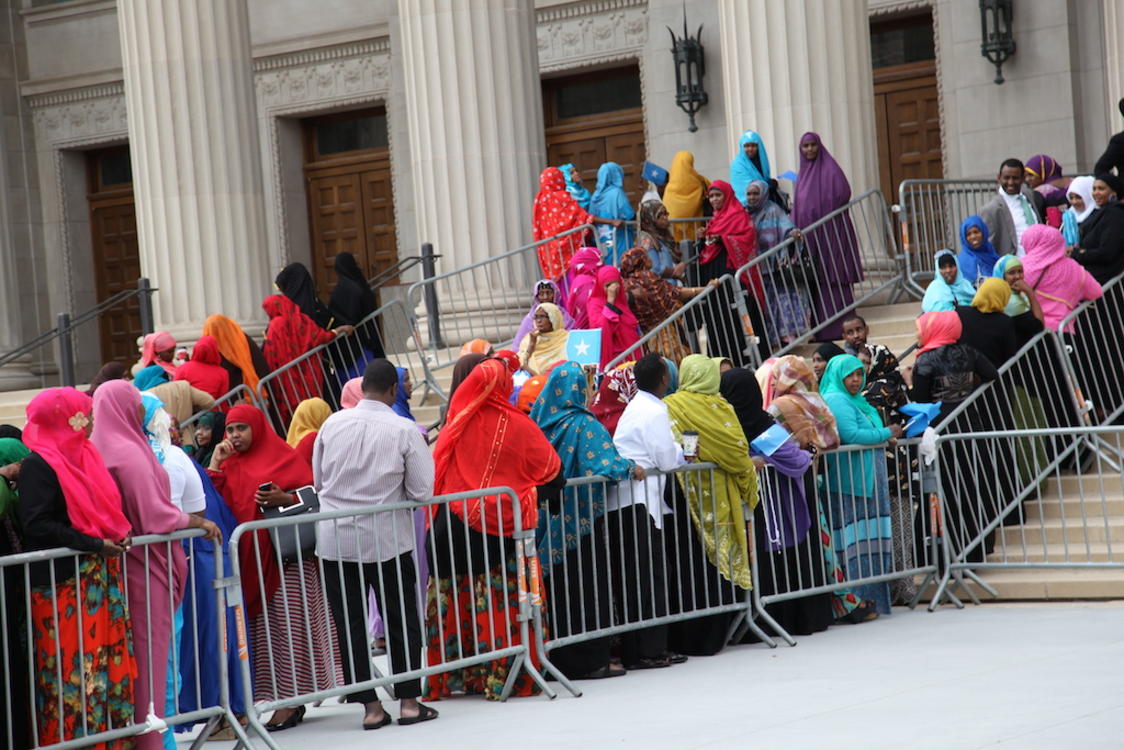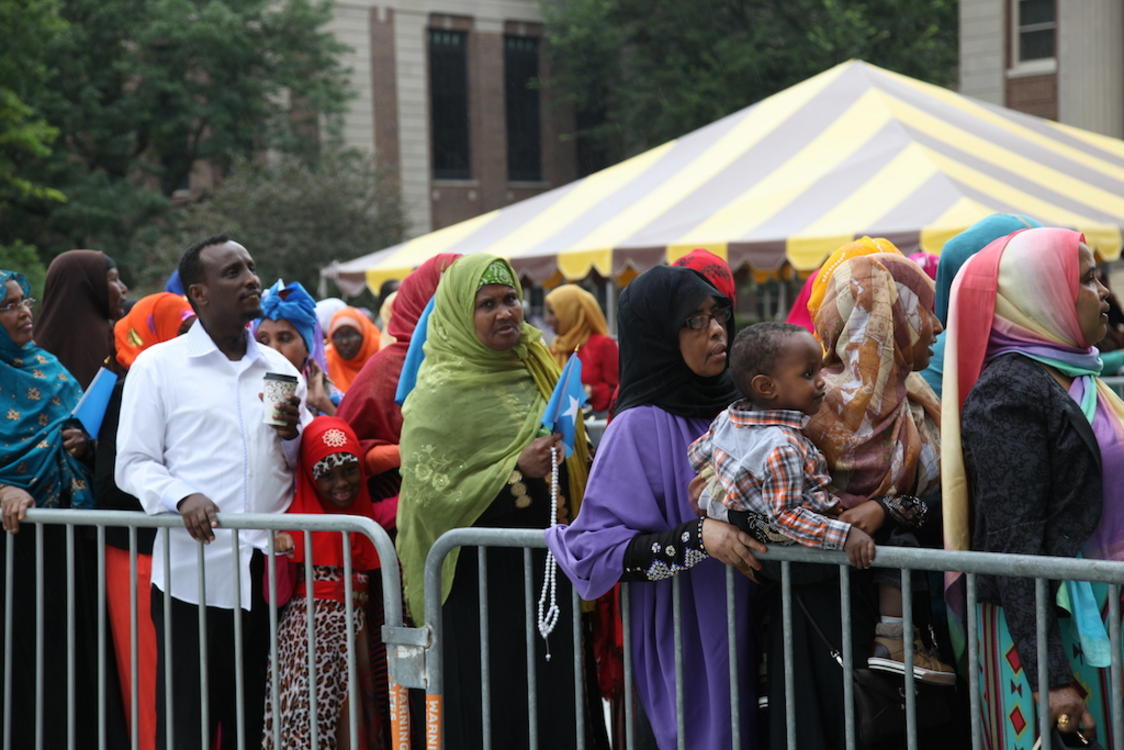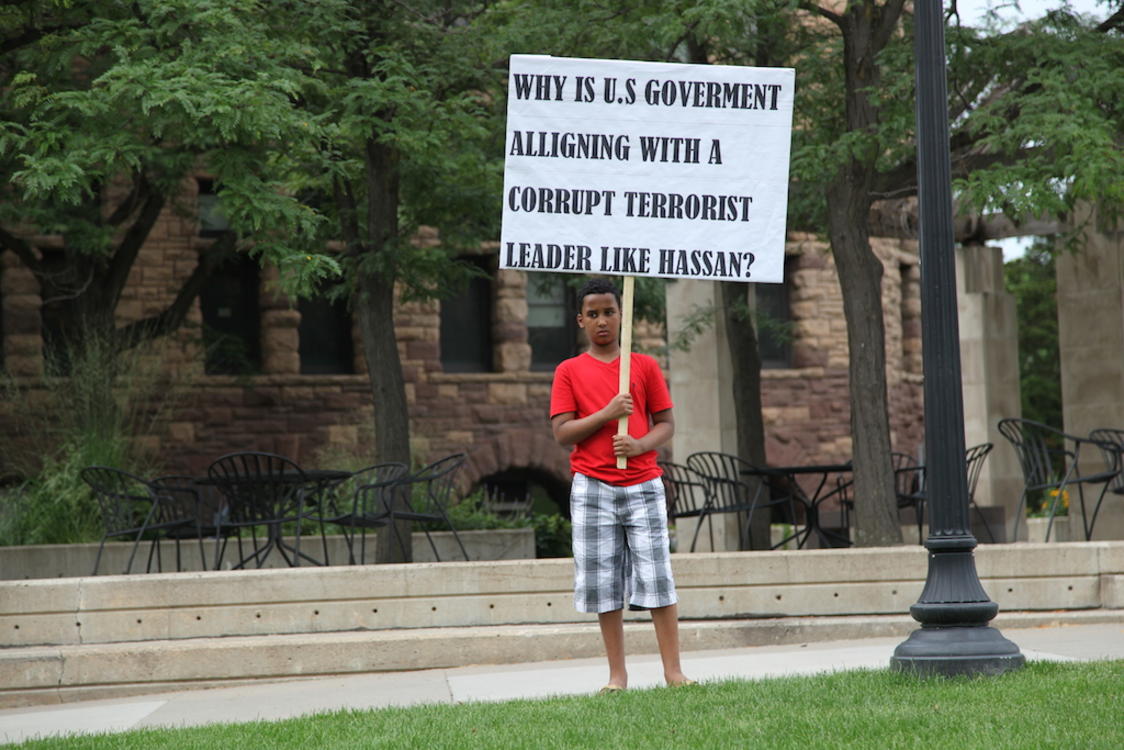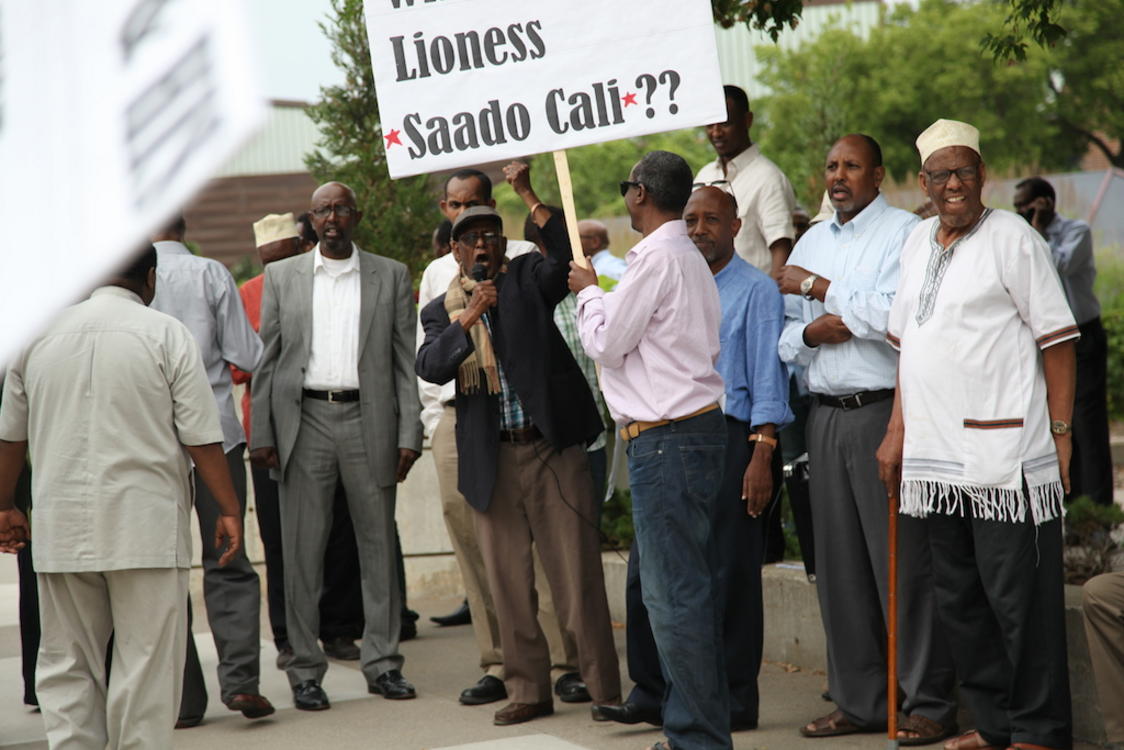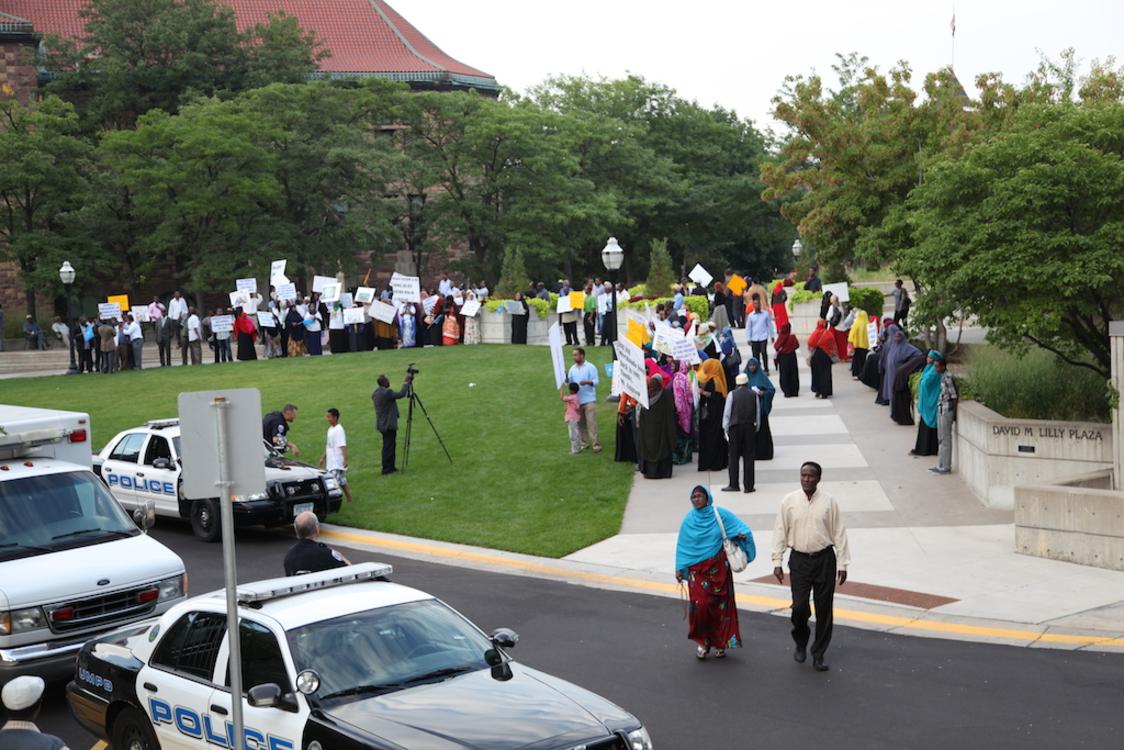 It was completely dark by the time Somali president Hassan Sheikh Mohamud arrived at Northrop Auditorium on the University of Minnesota campus on Aug. 9. But the lack of light didn't stop protesters, many of whom had been demonstrating for hours, from rushing to the curb and chanting "Down, Hassan, down!" as the president arrived.
President Mohamud's visit to the Twin Cities is part of his attempt to build relationships with the strong Somali population in Minnesota, but his reception was met with mixed feelings. More than 100 protesters showed up among the several hundred attendees at the event, attacking the president for his current policies, which protesters say lack adequate security improvements and fail to keep promises.
"Somalis back in Somalia, they have been in civil war for 24 years and they don't have a voice," said protest organizer Abdirizak Jama. "President [Mohamud] is ignoring the federal system, the federal constitution."
Back in May more than 100 Somali lawmakers asked the president to resign for failing to deliver more tangible change, like improving security in a nation struggling to rebuild after two decades of war.
President Mohamud's support also doesn't accurately represent the Somali-American community in Minnesota, Jama said, which he estimates at more than 25,000.
The U.S. Census Bureau estimates about one in three of the 85,700 people with Somali ancestry in the United States live in Minnesota, according to their most recent data.
Said Mohamed said he's frustrated by the lack of government funds used to educate the people of Somalia about the dangers of the extremist ideology perpetrated by terrorist groups like Al-Shabab.
President Mohamud is responsible for the death of Somali parliament member Saado Cali Warsame, who was killed last month in a drive-by shooting in Mogadishu, Mohamed said. President Mohamud severely undervalues the important role of women in politics and society, Mohamed said, so he's against providing any financial support to president Mohamud's office.
"I would like to say to Mr. Obama, not to give (president Mohamud) any funds because this president is not doing the job to secure our interests," Mohamed said. "He's using that money to fund tribes and start divisions in the country."
Community organizer Ahmed Hirsi, who works alongside the Somali Action Alliance that sponsored president Mohamud's visit to campus, said that many protesters are frustrated and upset over the death of Warsame who had strong ties to Minnesota. "A lot of people are asking why she didn't get the protection that she was supposed to have," Hirsi said.
President Mohamud visited the U.S. to attend the U.S.-Africa Summit in Washington D.C., so Hirsi said he and other community organizers felt that it would be a great opportunity to extend an invitation to president Mohamud to visit the Twin Cities.
"There are a lot of people who are concerned and we welcome those people who are against his policy," Hirsi said. "This is a great way for them to ask questions, to hear him out and understand why he's doing what he is doing."
Minneapolis social worker Deeqa Ali said she supports president Mohamud and hopes to someday return to Somalia to learn about the conditions of her homeland.
"I've been here 20 years and I haven't seen home," Ali said. "I miss home and the closest thing that I can think about is just having a president we can identify with."
Ali said she doesn't believe the recent allegations of president Mohamud conspiring to divert Somali assets recovered abroad for personal interests. After a series of transitional leaders in Somalia, she said, she was happy to see president Mohamud elected into office.
"There are people who are negative and people who are positive," Ali said. "But at the end of the day he's just one person who is really trying to put together a country that hasn't been a country for the last 20-plus years. We're here to tell him he's doing a great job."
Minneapolis political activist Mohamed Anin Ahmed said he has high hopes for president Mohamud and that people can't expect him to do everything they want him to do. Most importantly, he said he believes president Mohamud has succeeded in strengthening ties and fostering business relations between Somalia and wealthier countries like the U.S.
"A country destroyed needs capital. This is very important. Without capital, this man can do nothing," he said. "He doesn't have to come here and talk to us. But he's coming here to reach out, and even though I am not a 100 percent supporter of him I wish him luck."





(No Ratings Yet)


Loading...