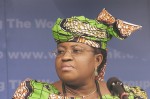 Falling oil prices are happy news for American car owners but disastrous news for Africa which was recently celebrating an "oil boom" around the continent.
Some energy consultants see falling prices as a political maneuver by the West designed to bring rebellious countries to their knees. Saudi Arabia also had a bone to pick with Iran. Soon there was a glut of cheap oil, pushing down prices in Iran, Russia and Venezuela. But the "collateral damage" of these price manipulations have been the people of Nigeria, Angola, Ghana and Uganda whose economies are heavily oil-dependent.
Examples of the pain abound. In Angola, government is budgeting major spending cuts on HIV/AIDS programs. According to Bloomberg news wire, Angola will set aside $11 million to fight HIV next year, compared to $16 million in 2014 and $22 million in 2013.
Angola's government relies on oil for more than three quarters of revenue.
In another case, the newly-blessed oil state of Ghana borrowed heavily – about $500 million from the IMF – on the back of anticipated profits to fund fuel subsides and salaries. This hasn't helped Ghana's currency, the cedi, which depreciated by about 40 percent to the dollar in the first three quarters of this year.
"We are woefully short," Sydney Casely-Hayford, a financial consultant and former adviser to Ghana's treasury, told Dow Jones.
Ugandan officials say they fear lower oil prices could deter companies from following through on plans to invest up to $15 billion to develop the country's oil fields.
Same for Mozambique which saw a $5 billion investment to develop natural-gas fields that look a lot less attractive now.
Dow Jones Business wire wrote: "The continent's biggest economies have staked their futures on robust prices for oil and gas… The London-based Capital Economics research firm says falling commodity prices will cut growth across sub-Saharan Africa by one percentage point next year, to around 4%, the slowest rate since the late 1990s.
"It's bad for all of Africa," said Jack Allen, an economist at the firm.
Africa's largest economy Nigeria is another case in point. The oil crude producer has grown 7% a year for the past decade. As retail and telecommunications companies have taken off, the oil industry has shrunk to a more balanced 14% of economic activity.
But Nigeria's government revenue hasn't evolved with its economy. Oil still fuels more than 70% of the budget, leaving public institutions dependent on the ebb and flow of global energy prices. As Brent crude prices fell below $70 a barrel this month, Nigeria's naira currency plummeted to record lows.
Nigeria's Finance Minister Ngozi Okonjo-Iweala says the drop in oil prices could drag economic growth down by a percentage point to 5.3% in 2015.
Falling prices for oil and other commodities are hurting African economies in other ways, too, notes Don Jones business writers.
The country's currency, the rand, has dropped to a six-year low as investors retreat from the slowing economy.
Persistent weakness in the rand undermines any lift from cheap oil, said Nico Bezuidenhout of South African Airways.
"You've got the break on the fuel price," he said. "But the currency has gone to the dogs."
Global Information Network is an independent, New York domestic non-profit news organization with an office in New York City that gathers and disseminates news from reporters in the field in Africa. It supplies news, analysis, and features to over 300 ethnic and minority newsweeklies nationwide. Its stories have appeared in print, broadcast and web media in the U.S.





(No Ratings Yet)


Loading...